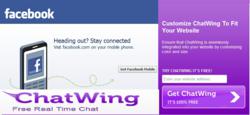 Dallas, TX (PRWEB) August 22, 2012
Expanding one's social network can now be as easy as installing a free chat widget to one's site. Chatwing team's launch of their improved chat application can bring numerous advantages to Facebook users who wanted to increase their online visibility and number of friends. This chat application has social media integration and social sharing option that will aid in connecting to more users globally.
To fully enjoy the benefits of using Chatwing's free chatbox, embedding it to one's site is the first step. Chatwing team has made the installation process simple that it might only take less than a minute to accomplish. Online users can change the widget's size and color that would fit to their existing sites.
Facebook users can also choose how the chatbox will appear to their site. They can have it as a regular shout box, pop-up window or use the direct URL option. The direct URL option allows the user to create his username and send it to selected Facebook users to start a private and controlled discussion. Based on Chatwing research, boosting online presence and attracting more online friends is synonymous with interesting chat discussions and innovative ideas. Facebook marketers have also used the Chatwing chat tool because of the high rate of connectivity that it can offer. According to some of these marketers, Chatwing's tool has helped them reach out to their target market properly.
Chatwing's chat widget has a simple interface and appearance, yet it can accommodate hundreds of online users globally. Its efficiency to facilitate real time communication among internet users has attracted more social network users and bloggers from different communities in the Internet.
About Chatwing.com
Chatwing.com specializes in the new field of website chat. Over years, the Chatwing team has introduced live chat box for hundreds and thousands of blogs. The Chatwing application bridges people from many parts of the world, creating global synergy through the Internet. The shout box can be installed in just seconds, and it can be used for varying purposes such as leisure and Internet marketing. It also allows a user to customize the size, color, and name of the widget. Chatwing is 100% free for everyone.