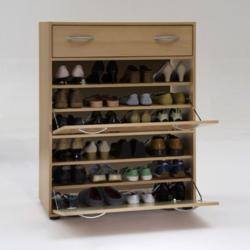 FurnitureInFashion Announces Record Summer Sales of 35%
(PRWEB UK) 31 August 2012
FurnitureInFashion is pleased to announce record summer sales of 35% despite all the sporting events in the UK and peak holiday time of the year. The UK has witnessed the busiest summer with the Golden jubilee of the Queen and then Olympics. 2012 summer has been much more about holidays in the UK. But even with the holidays and busy sporting schedule, FurnitureInFashion has been able to enjoy sustainable growth in its sales with a record summer sales of 35%.
The owner and Managing Director of FurnitureInFashion Asad Shamim said, "FurnitureInFashion recorded a great summer sales of 35% with its successful furniture ranges of TV stands, coffee table, living room furniture and dining room furniture. Our customers have shown immense confidence in our furniture ranges which is why FurnitureInFashion is now one of the leading online retail stores in the UK."
The surge in sales of FurnitureInFashion has been due to its contract with different pubs, cafes, restaurants and hotels for providing furniture for Olympics. UK has been the center of attraction for tourists and athletes during summers. FurnitureInFashion successfully supplied different furniture ranges to different hotels and restaurants during the Olympics. Mr. Shamim said, "FurnitureInFashion has been fortunate in winning contracts from hotels and restaurants for Olympics. We have sold a lot of furniture to cater the mega event of Olympics in the UK. This has helped the company to increase its sales and enjoy profit margin."
FurnitureInFashion offers the most exquisite range of TV stands, coffee tables, living room and dining room furniture. The entertainment range of FurnitureInFashion comprises of TV stands, DVD/CD racks, hi-fi entertainment stand and wall brackets. The company has been able to gain popularity and quality confidence due to its beautiful and high end tech savvy TV stands range. The TV stands range is available in walnut, oak, glass, chrome, Monza, metal and other materials.
These TV stands provide enormous storage space along with style element in any home due to their designs. Mr. Shamim said, "The most noticeable thing about the increase of sales at FurnitureInFashion is its ability to enjoy increased sales without increasing the prices in a recession hit economy. Most retailers and manufacturers are exploiting this opportunity but FurnitureInFashion has followed its mission to keep lowest possible prices."
FurnitureInFashion is the leading manufacturer and supplier of coffee tables as well. The coffee table range of FurnitureInFashion is available in materials like oak, wood, walnut, Monza, glass and many others. The range of coffee tables has storage compartments and drawers which make these tables ideal additions to any living room. FurnitureInFashion provides a fascinating range in its dining room range with wooden, glass and stone dining tables with beautiful dining chairs in chrome, leather, wooden and other materials. The dining range also offers separate dining tables, chairs, racks, shelves and sideboards as well.
A great addition to the existing furniture range of FurnitureInFashion is the living room range that provides complete home solutions. The living room range of FurnitureInFashion comprises of coffee tables, console tables, sofas, side tables, storage bench seats, soft furnishing, wall art and many other beautiful and important furniture items. Mr. Shamim said, "Due to increase in our sales, we are increasing our production as well over the next 6 months. We have expanded our manufacturing plant as well and we have a strategy to target more customers in the next six months of 2012."
About Furniture In Fashion
FurnitureInFashion is a UK based online retail shop with a manufacturing plant based in Germany. The company directly supplies furniture stores products from its German based warehouse. It supplies over 12000 furniture products for living room, dining room, bedroom, hallway, bathroom, kitchen, bar and office. For further information and details visit: http://www.furnitureinfashion.net