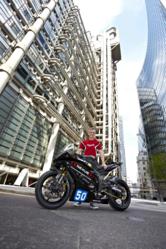 London, UK (PRWEB UK) 22 August 2012
Nexus Underwriting Management Limited is pleased to announce the sponsorship of motorcycle rider John Coleman as he undertakes the Manx Grand Prix on his 2006 Yamaha R6. Held on the Isle of Man's Mountain Course, the competition will span over a two-week period, which will see John race during the Bank Holiday weekend.
John Coleman has attended the Manx Grand Prix twice in the past, in 2008 and 2009. This year, he is hoping to beat his previous fastest lap of 105.8mph, which he achieved in 2009 despite poor weather conditions.
John mentioned: "This year, my goal at the Manx GP is a 110mph lap. If the weather is halfway decent and we manage a good amount of practice, I'd like to think this is achievable."
Nexus' Chief Executive Officer Colin Thompson commented: "The Manx Grand Prix has been held since 1923 and is one of the most prestigious and well known events in the motorcycle calendar. Nexus is very proud to be sponsoring John Coleman from Aon, who has spent a year planning and preparing for the event. On behalf of everyone at Nexus, and also all of John's friends and family, I wish John the very best of luck!"
The yearly amateur event consists of six four-lap races of the circuit, with the first race being held on Saturday 25th August. Practice rounds have been underway since 18th August. The event is notoriously difficult, with rider Neil Kent tragically losing his life in an accident in the 2011 racing event.
Nexus Underwriting Management is a private equity backed MGA operating in the London Professional Lines Market. The group manages approximately US$80m of Gross Written Premium through its operating subsidiaries in 2012 and is quickly establishing itself as the largest Professional Lines MGA in London.
To find out more about Nexus Underwriting Group, please visit http://www.nexusunderwriting.com/
To find out more about John Coleman's race results, please visit http://www.team-jhc.co.uk/teamjhc.htm
For more information
Colin Thompson
Chief Executive Officer
Tel: +44 (0)20 3102 4273
Mobile: +44 (0) 7595106939
cthompson(at)nexusunderwriting(dot)com
Andrew Pecover
Group Development Director
Tel: +44 (0) 203 102 4282
Mobile: +44 (0) 7736 771 844
apecover(at)nexusunderwriting(dot)com
Nexus Underwriting Management Ltd, Third Floor, 70 St Mary Axe, London, EC3A 8BE
http://www.nexusunderwriting.com
Nexus Underwriting Management Limited, Company Number 7055303 is registered in England. It is the holding Company for Nexus Underwriting Limited (trading as Nexus Financial Products) and Torus Executive Risks Ltd.