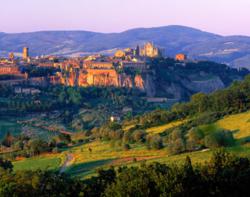 London, UK (PRWEB) August 23, 2012
Any Subject Books, a specialist Kindle Books publisher, is delighted to announce that there are still a limited number of places available for their popular writing courses in Italy. Courses are available from the 1st of September through to December 2012. The courses are held in a beautiful Umbrian farmhouse in "The Green Heart of Italy". Run by bestselling authors Clive and Damaris West the writing course aims to give writers and authors of all levels the help and advice they need to become successful.
The courses are held in a newly refurbished farmhouse in the heart of Umbria. It is the perfect location to inspire writers on any subject as the house is situated in the stunning Umbrian countryside of rolling hills, valleys and mountains. At the farmhouse the facilities are excellent with an indoor and outdoor pools, sauna, satellite TV, Wi-Fi and shared catering facilities.
The course itself is designed to cover a range of subjects that will be of interest to writers and authors. Over the course of the week five, three hour one to one individual sessions are held with either Clive or Damaris. The topics of these seminars include poetry, erotica, novel writing, short stories, Kindle publishing, how to promote a book, ghost writing among many other topics. Guests on the course can choose the own combination of topics or go deeper into one topic over the course of a number of days.
Prices for the writing course start from €980 per week and are on a per room basis. This means that the price of the course is the same regardless of if there are one or two people sharing.
About Any Subject Books
Any Subject Books was founded by Clive and Damaris West, a husband and wife writer team who have many years' experience of running a busy employment agency. With Damaris' background in languages, literature and poetry and Clive's in the commercial world, marketing and management, between them they already cover a wide range of genres. Add in all their years of working together and it is clear to see they have the requisite background to make a go of Any Subject Books. More information can be found on the website http://www.anysubject.com/writing-courses-in-italy or by phone +44 (0)1208 1333945.