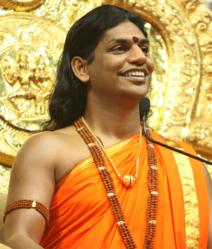 Life has no goal; it is a beautiful happening.
Los Angeles, CA (PRWEB) August 21, 2012
Will THE Samyama be the world's largest effort by the largest number of people being without food without any war situation or crisis? Will this ancient Vedic science of initiation provide us the solution to humanity's problem of crimes and deaths caused by lack of food in many parts of the world? One would have to wait and see.
THE Samyama process will be conducted in the physical presence of His Holiness Paramahamsa Nithyananda for 21 days starting on August 21 in beautiful hilly resort in Kodaikanal, South India
The participants who successfully complete the spiritual process of 'THE Samyama' will be able to live without food as a regular lifestyle if they wish. Their innate intelligence will be awakened and strengthened to live without the intake of external food as a normal lifestyle for as long as the participants choose to in their day to day life.
The 21 Day Inner Awakening Spiritual Retreat also begins on August 21st in the same location.
His Holiness Paramahamsa Nithyananda also announced that he would begin a new series of discourses on the different dimensions of Samyamas(powerful spiritual techniques), from August 21st as part of the daily live world -wide satsangs. Thousands of seekers and followers who log in via 2 way video conferencing and nithyananda.tv will be in for a treat, learning and experiencing the deep spiritual truths of various samyamas directly from a living incarnation.
The discourses will provide insights into the extra ordinary spiritual experiences and powers of samyamas and how it can be used to strenghten our day to day life. This series of discourses will create a new breed of beings with an elevated consciousness living an enlightened life style.
While talking on the same subject, Paramahamsa Nithyananda also stressed on the importance of three major requirements for all his followers and seekers.
When asked what the secret formula was that makes Paramahamsa Nithyananda, his message and the sangha (group) so intense in everything they do, he answered saying that there were three things that are given equal importance as a necessity. Firstly to start living the lifestyle of enlightenment. Second is to imbibe and follow the spiritual teachings to achieve the realization and experience of higher truths and dimensions of Super consciousness. Finally the third most important thing is to experience the power of samyamas to start expressing the extraordinary powers of enlightenment. When all these three are happening simultaneously, it is a complete spiritual life.
Paramahamsa Nithyananda will also be embarking on the 2012 Awakenging world tour in November 2012 to initiate spiritual seekers and people in need of life solutions to manifest their inner powers.
Videos on:
What are Samyamas: http://www.youtube.com/user/LifeBlissFoundation/videos?query=samyama
Hunger Free Meditation: http://www.youtube.com/watch?v=D-RuZPB8aFY&feature=plcp
Samyama On Sun, The Source of Astral Travel: http://www.youtube.com/watch?v=WOcJ2V6zPTM&feature=plcp
Balancing Your Body Through Samyama: http://www.youtube.com/watch?v=tp1PTHxnPGc&feature=plcp
About Paramahamsa Nithyananda:
As a global leader in the science of Enlightenment, in the past ten years attempts have been made to map Paramahamsa Nithyananda's brain, his energy levels, his mitochondria, his DNA. The scientific fraternity is continuously stunned by the results of what they can evaluate.
In a recent study, blood samples from a group of initiated participants aged above 50 years were subjected to a well-known protocol called MTT Assay for assessment of cellular energy levels. 100% of participants of this particular study recorded a drastic increase in energy levels, averaging 1300%. Such an increase is clearly impossible through any other known means such as exercise, yoga or fitness training, which can affect a maximum of 40% increase in cellular energy.
Paramahamsa Nithyananda has been working with doctors, scientists and research groups across the world to record and analyze mystic phenomena using modern technology. The results continue to intrigue the world of medical science. The range of extraordinary abilities do lie latent in us.
Nithyananda has made an indelible mark on the international spiritual scene, attracting highly educated followers from various professions with his engaging way of demystifying the Vedic truths and reinterpreting them in the light of modern living.
A spiritual genius with an enlightened insight into everything from management to meditation, from relationships to religion, and from success to spirituality, Paramahamsa Nithyananda brings to us a wealth of practical wisdom, meditation techniques, kriyas and tools for lasting inner transformation.
Paramahamsa Nithyananda's pragmatic approach takes into account the thinking of the new generation. His down-to-earth approach to spirituality, and his image of a tech-friendly saint, who illustrates the truths of Vedanta using a laptop, and modern analogies to instill Vedic values, has found Nithyananda admirers among the youngsters and their parents alike.