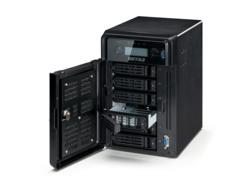 The high-end additions to our TeraStation 5000 family give SMBs a level of reliability and performance you would expect in an enterprise environment, but available to the channel at a small business price point
London (PRWEB UK) 21 August 2012
Buffalo Technology, a global leader in the design, development and manufacturing of storage and wireless networking solutions, is today announcing its most advanced storage devices for SMBs, with the launch of 6- and 8-bay advancements to its TeraStation™ 5000 family. The TeraStation 5600 and 5800, designed specifically for the data needs of SMB organisations, offer IT professionals an advanced level of data transfer performance, security and network flexibility usually only available with enterprise-class storage devices.
The new TeraStation 5600 and 5800 deliver exceptional performance during file transfer, powered by Intel® Atom™ D2700 dual core processors. The TeraStation 5000 NAS range offers scalable storage capabilities to customers with simultaneous iSCSI and Ethernet connectivity. Built in RAID and hot-swappable disks ensure reliability and data availability for both primary and backup data storage. For backup, the TS 5600 and TS 5800 offer scheduled backup, failover and replication capabilities and the devices also fully support Amazon S3 cloud storage and WebAccess for transferring data to online backup or cloud-based storage.
The new additions to the TeraStation 5000 range include a host of unique business support services designed specifically for the multi-functional IT requirements of SMBs. This includes Buffalo Surveillance Server, which enables video recording from up to ten IP cameras to be streamed directly to the TeraStation device, providing efficient data transfer for physical security. The TeraStation 5000 range also includes 2GB of fast DDR3 memory, USB3.0 for high-speed data transfer, five USB points for flexible connectivity and ten licenses of NovaBACKUP Business Essentials.
Paul Hudson, Sales Director for Northern Europe at Buffalo Technology, says: "The high-end additions to our TeraStation 5000 family give SMBs a level of reliability and performance you would expect in an enterprise environment, but available to the channel at a small business price point. The networking and redundancy feature-set of the TeraStation 5000 more than meets the storage needs of SMBs. We also understand that IT managers need to deliver multiple functions from a single device and the unique USB3.0 and Surveillance Server capabilities we have built into these products offer IT Managers greater device utilisation than many other vendors can provide."
ENDS
About Buffalo Technology
Buffalo is a global manufacturer of innovative storage, multimedia, and wireless networking products for the home and small business. The company is recognised as the Number 1 total PC peripheral manufacturer in Japan, and was the worldwide consumer NAS market leader in 2005, 2006, 2007, 2008, 2009 and 2010 (In-Stat).
The company's storage products are addressing the needs of the individual and the business, providing cost-effective network attached storage (NAS), portable and desktop hard drives, multimedia players, and Wireless LAN routers, which together offer a complete and integrated solution for the small office and digital home environment.
Buffalo's product portfolio includes its TeraStation™ NAS devices which are specifically designed to bring Enterprise Storage to the SMB. The LinkStation™ range of NAS products, takes multimedia NAS to the home, and enables you to create a central location to share information, store files, photos and music, and save all your digital content, simply and easily. The AirStation™ range of easy-to-use, high performance wireless networking products for the SMB/SoHo and home user, with industry-leading AOSS™ (AirStation One-Touch Secure System) technology, allows users to build and manage secure wireless networks at home or in the office at the push of a button.
Buffalo's strong international industry alliances with companies such as Intel, Broadcom™, Nintendo and Microsoft have allowed it to lead the industry in the development of the latest technologies into practical tools for the business and the home.
Headquartered in Japan, Buffalo Technology has offices in the UK, France, The Netherlands, USA and Taiwan. For more information please visit http://www.buffalo-technology.com