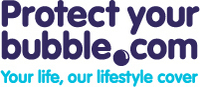 88% of Brits say checking their phones first thing has firmly become part of their morning routine
(PRWEB UK) 24 August 2012
A recent survey by specialist online mobile phone insurer Protect your bubble, shows that the popularity of mobile phones are at an all-time high – we just can't be without them.
Protect your bubble carried out a poll of 3,000 smart phone owners to find out just how important our gadgets are to us.
It turns out that the majority of us check our phones before getting out of bed, while a massive 88% of Brits say checking their phones first thing has firmly become part of their morning routine, alongside having a cup of coffee, eating breakfast and brushing teeth. Amazingly, 57% say they actually can't get ready for their day without first checking their text messages, emails and Facebook updates. Meanwhile, a quarter of us check our phones even if we pop to the toilet in the middle of the night.
Using our phones has become a necessary habit, so much so, that 68% of people say that checking their phones before work makes them feel more prepared for the day ahead. Meanwhile, a sneaky 13% of professionals make a point of sending an email late at night to look good. But using our phones has also become a key way of relaxing. We can listen to music, watch films and play games. A third of smart phone users say they are more likely to spend half an hour in bed checking their phone than they are reading a book.
Stephen Ebbett, director of Protect your bubble, said: "Owning a smart phone is like having a right arm – you don't know how you ever coped without it. Being able to access email, the internet, social networking sites and texts wherever you are is life changing. It means you can control your life more efficiently, even from the comfort of your own bed."
Most of us keep our phones by us when we are sleeping, but for those that don't, they are apparently always within six metres of us during the day and night. So given their importance, getting some great value mobile phone insurance from Protect your bubble would be a sound investment.
Stephen Ebbett added: "The funny thing is that Brits can't bear to think they are missing anything – so although most people will go to bed around 11pm and wake at 6 or 7am, they will still check their phone just before they go to sleep and as they wake up. Goodness knows what they think will happen on social networking sites and with friends and family while they are fast asleep."
Protect your bubble is an online gadget insurance provider, specialising in great value insurance cover for iPhones, Smartphones, mobile phones, cameras and more. Quotes can be obtained for your gadgets via the following URLs:
Mobile Phone Insurance: http://uk.protectyourbubble.com/gi-mobile-phone-insurance.html
iPhone Insurance: http://uk.protectyourbubble.com/ip-iphone-insurance.html
iPad Insurance: http://uk.protectyourbubble.com/ipad-insurance.html
Find Protect your bubble UK on the following social networks:
Facebook: facebook.com/ProtectYourBubble
Twitter: twitter.com/protectyrbubble
YouTube: youtube.com/protectyourbubble