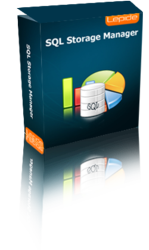 A Complete SQL Storage and Performance Management Tool
(PRWEB) August 22, 2012
Lepide SQL Storage Manager- A Complete SQL Server Management Solution Released
Lepide Software Pvt. Ltd. announces launch of a powerful tool to manage SQL Server Storage space and improve SQL Server Performance – Lepide SQL Storage Manager. It aims at helping organizations and administrators observe and analyze capacity, track performance and storage space of all or individual Instances of SQL server through insightful reports and issue alerts on critical requirements and thus improving the overall efficiency and working standards of SQL Server.
Software with its useful features offers a single point access to multiple reports and forecasting information through which the database Admins will be in a more powerful position to know what is happening where and in which disk, as far as SQL storage and performance is concerned. The tool not only makes Administrators aware of the capacity trending but also gives forecasted value of different storage and performance parameters. With such accurate and useful information in hand, the Admins will be able to maintain a healthy SQL Server environment and also be prepared for future advancements and upgrades. It further simplifies the monotonous tasks such as Defragmentation (automate it), Partitioning and Shrinking of SQL server database without using native services.
Some of the important benefits of using this software are:

Save storage space and efficiently utilize available resources.
Improve server performance through defragmentation and reorganizing Indexes and Heaps.
Manage disk space by trending and forecasting disk usage and plan for future requirements well in advance.
Key Features of Software

Automate defragmentation by defining thresholds level at which software launches defrag process.
Shrink database, filegroups and files to get more space out of the same storage area.
Reorganize heap and indexes to improve search and data manipulation performance.
Create, modify, remove and switch partitions to better manage storage space.
Generate Overview, Storage Usage and Performance statistics reports for Instances, Database, Filegroups and Tables.
Automate partitioning process for new data by creating sliding window scenario.
Get real-time alerts on SQL events and database performance.
Generate alerts on high fragmentation level of database objects - Tables, Indexes and Views.
Find out per day disk space consumption rate and plan for future requirements accordingly.
Schedule jobs such as defragmentation, shrinking, sliding window partitioning to run at specified time without human intervention.
Get notification on the status of the scheduled jobs to verify if the jobs have been successfully completed or not.
Lepide SQL Storage Manager provides the Admins with a single platform to manage any number of SQL servers from one central location in an easy and efficient way. The software is highly compatible and runs on all Windows platform, also, Lepide Software is known for providing high-quality post-sales support to Users, in a nut shell – a must have tool for all SQL database administrators. For more details about the software, please visit: http://www.lepide.com/sql-storage-manager/
Supported Versions:
Supported Platforms (32/64-bit version):

Windows 2003 / Windows XP / Windows 2008 Server / Windows Vista / Windows 7
Supported SQL Servers:

SQL Server 2000 / SQL Server 2005 / SQL Server 2008 and SQL Server 2008 R2
Free Trial Version:
Lepide SQL Storage Manager is available as a trial as well. This demo version allows users to test the product's features and functionalities. However, the trial period is limited to 30 days and after the expiry of the trial period users need to purchase the full version to continue using it. Apart from the time limitation, demo version is fully functional and cannot leave the users unimpressed.
About the Company:
Lepide Software Pvt. Ltd. has launched a number of cutting edge software tools that cater to Network management, IT support and PC tools. Lepide SQL storage Manager is yet another addition to the company's portfolio of innovative and result-oriented software that have been launched in past decade since the company's inception. To know more about the company visit its website: http://www.lepide.com