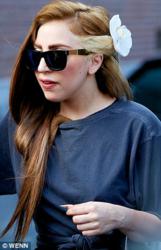 out in Amsterdam showing off her new brown locks
(PRWEB UK) 23 August 2012
Lady Gaga Tweeted her fans earlier in the week to let them know that her hair is now 'Louis Vuitton brown'. Gaga wouldn't be the same without her constantly changing outfits and hairstyles so we are glad that she is keeping up appearances with her new look. She has been out in Amsterdam showing off her new brown locks, where we spotted a thick streak of blonde kept in at the side. Maybe she's not ready to completely let go of blonde Gaga just yet? She revealed all by saying "I'm gonna leave one streak of bad by my left ear. Lady when its down, and Gaga when it's up. Could we belong together?".
BuyHair.co.uk have witnessed an increase in sales of products ranging from bow hair accessories to extravagant wigs when Lady Gaga has decided to change her look, which is why they do not expect this time to be any different. BuyHair.co.uk employee Lyndsey Hepple says "We are sure to see sales soar in Lady Gaga's new colour. I imagine customers will opt for their desired length of clip in hair extensions in a colour 8, with a clip in blonde streak at the side."
The simplest way to get Gaga's new look is to use Clip In Hair Extensions such as the newly launched Harland Remy 100% Human Hair 8 Piece Clip In Set, retailing from only £75.31 at buyhair.co.uk. As clip in hair extensions are available in a huge range of colours and lengths, everyone is sure to find a perfect match. Go to http://www.buyhair.co.uk today to grab yourself a luxury set of hair extensions.