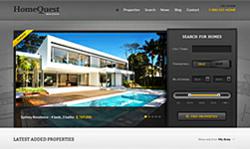 When buying this new real estate WordPress theme, our customers get a solution that's operational out of the box, and can be used right away
Bucharest, Romania (PRWEB) August 23, 2012
ThemeFuse - leading provider of premium WordPress themes has launched a new theme - HomeQuest - aimed at businessmen in the real estate market.
Websites for real estate agencies were always expensive due to web designers' and developers' rates. ThemeFuse presents a different approach by releasing an affordable solution that's of high quality at the same time.
"Websites for real estate agencies were always expensive. Mainly due to all the additional functionalities that such agencies usually require. That's why we're taking this to another level by offering these functionalities built-in right from the get-go," said Dimi Baitanciuc - co-founder of ThemeFuse. "When buying this new real estate WordPress theme, our customers get a solution that's operational out of the box, and can be used right away."
Among the features mentioned by Baitanciuc, every client can find: powerful filtering mechanism to make searching for real estate easier for end users, smart Google Maps integration to show every home's location, and more.
The theme can be downloaded from ThemeFuse's website, and then installed in less than five minutes. HomeQuest has been designed to work with one of the most popular website management platforms - WordPress - an open source system widely supported by every major hosting provider.
This new theme doesn't require any programming or web development skills in order to install it. ThemeFuse delivers a clever feature called "One Click Auto Install," which sets all the initial parameters of the website and then installs sample data the owner can change later.
"HomeQuest has a custom design that resonates well with the real estate sector. Sending a message of professionalism, credibility and trustworthy environment - something that's especially important when dealing with any kind of real estate clients," said Dimi Baitanciuc.
There are built-in SEO possibilities, so users don't have to install additional plugins to optimize their sites. For real estate agents who want to remain connected with the community, there's a standard blog layout included in the theme as well. Using it, agents can share interesting insights and news with their audience and prospective clients.
Additionally, ThemeFuse offers their users a very friendly support area and comprehensive online documentation. For more information, and details on how to get and install HomeQuest please visit: http://themefuse.com/wp-themes-shop/real-estate-wordpress-theme/
About ThemeFuse:
ThemeFuse, a commercial WordPress templates shop, focuses on original out of the box design and ease of use for every type of user. ThemeFuse aims at providing their customers with themes that can make every website stand out from the crowd, and also offers dedicated support around the clock.