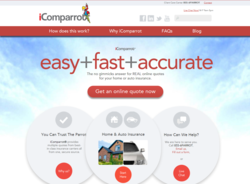 "With iComparrot, it's not just about receiving real quotes and a lower rate. We value a long-term relationship with each and every client."
Ann Arbor, Michigan (PRWEB) August 22, 2012
iComparrot , the revolutionary new insurance quoting website, was launched today. The site provides impartial, hassle-free, REAL insurance quotes for your home or auto, coupled with stellar service.
This free service allows consumers to input their current information, and receive a "real" insurance quote. While other sites merely provide estimates,iComparrot is directly linked with its insurance carriers, providing unparalleled quoting accuracy.
While the market for online insurance quoting sites continues to grow daily, there are some major consumer concerns that only iComparrot addresses. iComparrot provides real-time quotes, unlike many sites that typically rely on outdated. iComparrot does not play around with optimistic or pessimistic guesses designed to skew consumers towards a specific product.
"Our exhaustive research shows that while some online insurance quoting platforms have strengths in certain areas, none of them address all of a consumer's concerns the way iComparrot does," says Vice President Sam Engardio.
The online quote request takes roughly 3-5 minutes to fill out. The more accurate and thorough this is filled out, the more accurate the rates will be. If a consumer has a question, an iComparrot representative is available via: phone, email or online chat.
Privacy is paramount in the iComparrot business model. While the idea of truly anonymously shopping for insurance is a novel one, insurance rates are based on personal history. The iComparrot platform is designed to securely present the information to its participating carriers. Rates are instantly presented on the same screen as the questionnaire.
"Too often comparison sites ask all the questions, without ever presenting rates upon completion. Consumers are left to manage the invasion of solicitor phone calls, emails and junk mail," said President Jim Kapnick. "With iComparrot, it's not just about receiving real quotes and a lower rate. We value a long-term relationship with each and every client."
iComparrot staff focus heavily on always providing a high-quality client experience. This focus is accomplished by offering all of the services of an agent, a claims advocate and an advisor.
iComparrot was developed in 2011 and is powered by Kapnick Insurance Group. Founded in 1946, Kapnick Insurance Group is a third generation, family-owned agency headquartered in Michigan. Kapnick Insurance Group is ranked in Business Insurance magazine's 2012 list of the Top 100 Brokers of U.S. Business.
The criteria for iComparrot's carriers include: a strong financial record with an AM Best Rating of "A" (Excellent) or better and a long history of this financial stability.
Currently iComparrot is available in Michigan and Ohio, with new states being added very soon.
# # #