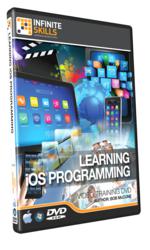 Learn The Art Of IOS Programming
(PRWEB) August 23, 2012
Technology training firm InfiniteSkills Inc., last week introduced its Learning iOS Programming Tutorial, a training course designed to introduce beginners to fundamental programming features and techniques for Apple's mobile platform.
The release comes just a matter of weeks before the release of Apple iOS 6, the newest iOS version announced in June for a Fall release date.
Course author Bob McCune, an experienced developer and entrepreneur, says the course is designed with iOS 6 in mind, covering iOS fundamentals such as ARC and Storyboards that will remain consistent in the new version.
"The iOS platform is rapidly evolving," says McCune. "We started production of this title knowing that iOS 6 would be coming out this fall, and the patterns and processes we cover, unique to developing for Apple's platforms, form basis of the new version."
MCune, who has almost 20 years of development experience, provides a comprehensive introduction to iOS. Assuming only a basic understanding of object oriented programming, the course starts by reviewing the Objective-C language. Then McCune guides students through performing essential iOS tasks, with each lesson building on the previous one, until the course culminates in a basic, yet useful application that makes use of several fundamental iOS features.
The course covers several key concepts including understanding data persistence, working with Storyboards, using Tableviews, and how to program interaction with web services. Additional topics can be found on the complete table of contents on the InfiniteSkills website:
Learning iOS Programming Tutorial - DVD Video
Learning the iOS platform is a significant challenge for most developers because it requires them to learn an entirely new programming language, how to use a new set of development tools and application frameworks.
InfiniteSkills Learning iOS Programming Training Video presents essential tools and techniques in a thoughtful and meaningful way, providing a comprehensive understanding of the iOS platform without overwhelming with information they can't use.
The Learning iOS Programming Video Training - DVD is designed around real-world applications, teaching important concepts by allowing users to actively engage the iOS language under the guidance of an experienced professional.
Free demo videos and a full list of course contents can be found on the Learning iOS Programming training page of the InfiniteSkills website:
http://www.infiniteskills.com/training/learning_ios_programming.html
InfiniteSkills offers its Learning iOS Programming Video either as a DVD or a direct download from the company website at a retail price of $99.95. Although covered programs vary in their compatibility, all InfiniteSkills titles and formats are compatible with both Mac and Windows operating systems, and shipping is available around the globe. Additionally, InfiniteSkills tutorials are supported by project files which correspond to examples in the videos.
About InfiniteSkills Inc.
A leader in the field of software training, InfiniteSkills strives to offer the highest quality training at an affordable cost. InfiniteSkills tutorials are task-oriented instructional videos, teaching complex skills by providing hands-on examples and guiding users as they carry out critical objectives. InfiniteSkills offers a comprehensive range of software titles available as DVDs, digital downloads, and in iPad editions, keeping with company aim of delivering professional training to customers anywhere they want to learn.