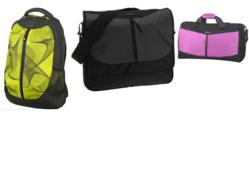 This convergence of casual, relaxed style and business suits a wide scope of travellers' needs
Kent (PRWEB UK) 25 August 2012
Samsonite was founded in 1910 and is one of the flagships in travel luggage. Continually moving with technology and keeping their bags stylish and of high durable quality- the Urbnation range falls right into line with Samsonite's level of quality with a 2 year warranty attached to these items.
This is a great addition to Luggage Superstore's casual collection by Samsonite. The ergonomic design of these bags brings comfort during frequent use. The material is 600 x 600 denier polyester and the plain coloured ones would have mini ripstop. Aimed at the latest generation of urban backpackers, the solution to comfort and durability is merged into this design and also comes in great colours.
This convergence of casual, relaxed style and business suits a wide scope of travellers' needs. The laptop backpacks, duffles and messenger bags are all lightweight bags, which is another bonus towards comfort and of course, being able to add more items to capacity.
Samsonite's casual collection, Urbnation, brings the idea across clearly that having luggage that allows a "let yourself go" wear, does not have to compromise on style and good looks.
Luggage Superstore established site is in West Kingsdown, Kent. Their aim is providing competitive prices of the highest quality luggage and top calibre Customer Service for online luggage shopping.
Trina Chee-a-kwai
Luggage Superstore
01474 854666
Email information