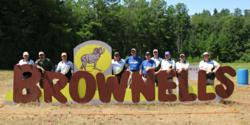 Brownells is pleased to partner with Rockcastle, AR15.com and Hornady to put on one of the industry's best 3-gun events.
Montezuma, IA (PRWEB) August 21, 2012
Brownells – The World's Largest Supplier of Firearms Accessories and Gunsmithing Tools™ - is proud to announce that it will again serve as a presenting sponsor of the AR15.com/Rockcastle Pro Am 3-Gun Championships to be held at the Rockcastle Shooting Center in Park City, KY, August 24-26, 2012.
Coming back for a second year after a highly-acclaimed debut in 2011, the match is expected to draw more than 500 championship-caliber and Amateur 3-gun shooters - all vying for a piece of the incredible $300,000 prize table – made possible by donations from sponsors like Brownells, Sinclair International, and Hornady.
"The Rockcastle team has put together another fantastic competition that will challenge both beginners and rock-star 3-gunners," said Pete Brownell, President/CEO of Brownells. "Brownells is pleased to partner with Rockcastle, AR15.com and Hornady to put on one of the industry's best 3-gun events."
Competitors may choose to shoot in the Tac Optics or Open Division to take on the dynamic stages designed by current and former 3-gun champions. Amateur attendees will benefit from daily pro clinics, while competitors participating in the FNH USA 3-Gun Nation tour will receive points for their efforts.
In addition to their support of the event, Brownells and Sinclair International will send a contingent of shooters to this year's competition, including 2011 Amateur Champion, Corey Schwanz.
"Winning the Amateur title last year was very exciting," said Schwanz, a Reloading Technician with Sinclair International. "This year I'll be competing on the Pro side, so I'm anxious to see how I stack up against the best in the sport."
About Rockcastle Shooting Center
The Rockcastle Shooting Center, located on the Park Mammoth Resort property, is host to a variety of local, regional, National and International shooting competitions. Over sixty-plus shooting events are scheduled for 2012, including inaugural matches for IDPA, USPSA and Scholastic Steel Challenge. Additionally, they offer a training and education center with world-class instruction, a 15-station Sporting Clay course, 5 Stand, Pistol and Rifle Ranges out to 1,500 yards, SASS Range and two 3D Archery Ranges. In addition to shooting sports, the resort features an 18-hole golf course, lodge, restaurant, winery and vineyard.
About Brownells
Founded in 1939, Brownells is an Iowa-based, family-owned company that supplies more than 75,000 firearms parts, accessories, reloading components, gunsmithing tools, and ammunition to armorers, gunsmiths, and shooters worldwide. In addition to their industry leading 100% lifetime guarantee on EVERY product sold, their staff of veteran Gun Techs is available to assist customers with any need – free of charge. There are no minimum order sizes or fees. To place an order, or for more information, call 800-741-0015 or visit http://www.brownells.com.