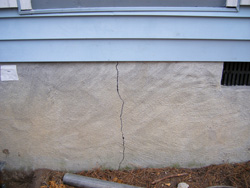 El Dorado, KS (PRWEB) August 23, 2012
Local expert, Kansas Foundation and Basement Repair, recently completed a major repair project for a commercial facility that was experiencing foundation problems due to the severe drought across the Midwest. It's one of many calls the contractor has received from both homeowners and businesses who are struggling to combat the drought's effects on their foundations.
Cracks in foundation walls and visible gaps, not to mention sticking windows and doors are some of the signs of shifting foundations that customers are seeing. In this season's extremely dry conditions, soil shrinks and pulls away from the foundation causing it to move. Kansas Foundation and Basement Repair has solutions for these problems.
In this particular project for a natural gas production company, they had to resolve the settling and upheaval of concrete bases that support the pipe lines. Kansas Foundation and Basement Repair placed 29 galvanized, double-plated helical piers into the Kansas prairie and then welded brackets on top of them to hold the pipes in position. These helical piers, states the contractor, do not allow any downward or upward movement. Problem solved.
Kansas Foundation and Basement Repair has almost two decades of experience repairing foundations and crawl spaces, waterproofing basements, and dealing with mold issues. Family-owned and operated, they are proud members of Foundation Supportworks Inc., the internationally recognized network of expert foundation repair contractors whose award-winning products are installed in thousands of residential and commercial structures.
Kansas Foundation and Basement Repair serves customers in western and central Kansas including Topeka, Wichita, Manhattan, and surrounding areas.