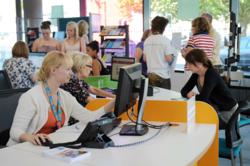 We would encourage anyone who is considering studying this year to get in touch, as it may well be a more realistic option that you think.
Suffolk (PRWEB UK) 21 August 2012
At University Campus Suffolk (UCS), over 90% of graduates entered employment or further study within six months of finishing their studies and, of that proportion 71% felt that they would not have been able to get the job without their degree qualification.* Experience shows that as well as being more employable, graduates also progress through a company at a much faster rate.
UCS still has vacancies on a range of undergraduate degrees for this September in areas such as Business management, Arts and Humanities, Science including sports science and bioscience, Social Sciences such as psychology, criminology and sociology, and Young People and Education; as well as postgraduate degrees including the MBA and Masters in Journalism, Learning and Teaching, Regenerative Medicine or the Science of Healthy Ageing.
Whether you have not secured a place at a university, are thinking about transferring from another institution, or have only just decided that you would like to study this year, UCS recommend that you get in touch quickly to discuss your options.
UCS is holding an Open Evening from 4 – 7pm on Wednesday 22 August, to provide help and advice to anyone who is considering studying this year, whether on a full or part-time course. Academic staff and advisors will be on hand to explain more about courses, finance and support available.
Sarah Tattersall, Head of Student Recruitment at UCS, said: "We understand that many potential students may worry about the cost of Higher Education but most students will not have to pay a penny upfront for the cost of their course and some will be eligible for additional support in the form of grants and bursaries that don't have to be paid back."
"We would encourage anyone who is considering studying this year to get in touch, as it may well be a more realistic option that you think. We will have trained staff ready to help with all enquiries at our open evening tomorrow, and would particularly encourage mature and part-time students to drop in and see us – this event is not just aimed at people who received results last week."
Although fees for UK universities are increasing this year, contrary to in previous years students no longer have to pay upfront and are entitled to a tuition fee loan to cover the costs of their study. This applies to both full and part-time students, which in many cases could mean that part-time students find it is now easier both financially and practically to study for a degree over a longer period to fit with their lifestyle.
For those interested in studying closer to home, the good news is students can save up to £18,000 over a three-year programme. Suffolk-based students can also apply for the Suffolk Access Champion Scheme, which offers a total fee waiver of £8,000 in return for participation in a programme of mentoring.
In addition to the Open Event tomorrow, advisors are on hand to answer enquiries all week on 01473 338352. Alternatively the UCS Infozone is open for enquiries in the Waterfront Building on Ipswich waterfront, from 9am to 5pm, Monday to Friday.
*Destination of Leavers from Higher Education 2010-11