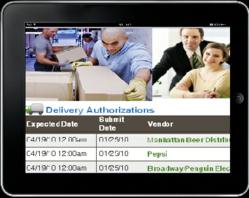 Simple, Effective and Efficient
New York, NY (PRWEB) August 27, 2012
The Loading Dock System is a cloud-based platform for security directors, guards and facility operators to collaborate on mange vendors as they enter and exit a facility. By employing the easy-to-use features of vehicle access management and delivery scheduling, guards are streamlining operating, increasing security and providing enhanced building services.
Earlier this month, Building Intelligence introduced its next generation of the Shortpath Security Portal with new features in its vehicle access and loading dock system. New features include license plate database, driver analysis and vehicle reports.
The patented technology serves clients throughout the US. On Wall Street and lower Broadway, the most sensitive and secure areas of New York, several buildings are using the suite of cloud-based services to assist in identifying visitors, and how they relate to risk. Performance centers, healthcare, schools, government buildings, commercial and residential properties are turning to the Building Intelligence for solutions to very complex security requirements. Because of the simplicity of the Shortpath.net platform, the low total cost of ownership, and because of its status as a patented technology, Building Intelligence provides a unique set of services.
After acquiring the Shortpath technology, the Building Intelligence technology team integrated a loading dock management system, a scheduling program and vehicle access control piece into the Shortpath solution. Extending the Building Intelligence suite of products provides the ability for vendors to participate in the building community based on the requirements of the property. The product allows facility managers to approve vendors and provision access to information about the vendors. Meanwhile, guards can enforce these rules while notifying customers of the arrival of their delivery.
With more than 9,0000 vendors in the system, vendors have the opportunity to list their products and become trusted resource for all the offices, tenants or divisions within a building. Once approved, the building can schedule the vendor, check-in the vehicle and manage the security procedures required for the property. Vendors and their business owners can apply for membership at Secure Vendor.
In conjunction with current issued patents, the executive team at Building Intelligence filed its third patent relating to the management of vehicles within a facility. "As we continue to build on our software platform, it is important to continue to build upon our intellectual property portfolio. It serves to protect our inventions and our clients," according to Building Intelligence's CEO, Jeffrey Friedman. "We focus on serving our clients by protecting their interests and streamlining operations; security directors and facility managers work together to effectuate a balanced approach to vendor participation and responsibilities. The contractors and service providers that participate in the operations of buildings must have a meaningful way to share those responsibilities. We are innovating new services and products to foster those relationships. Security does not have to be a roadblock; it actually can be a way to bring people together towards a common goal."
With an already established visitor management program, the new vendor program augments the information available about every visitor, vehicle or vendor that accesses the property. In a recent article in SecurityInfoWatch, the Shortpath technology was highlighted as the next generation in security services. By providing a private-labeled solution, security integrators, installers and consultants can use our product to establish security standards, and manage their clients all under their roof. As a tremendous value, integrators and installers have a great way to increase their recurring revenue, provide more services to their clients and offer their clients the value proposition of cloud-based services.
Building Intelligence Inc. is a New York based information technology and security services provider founded in 1997. The company provides a suite of facility and security cloud-based solutions for managing facilities in many different industries. Scalable to industries such as commercial, residential, government, hospitality, healthcare, stadiums, and performance centers, our cloud-based portal, vehicle security, visitor security and vendor solution is customized to fit the needs of the buildings, the tenants and the security companies that service those facilities All of our systems provide streamlined operations, logistics and analysis and comprehensive security protocols that provide people, property and business with an ideal combination of services.
Shortpath, our online facility management system, offers applications and tools that simplify the exchange of products, services, and information among building owners, office managers, tenants and vendors.