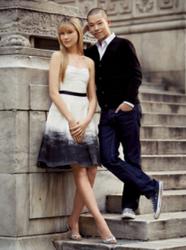 Jason Wu and friends seen blowing off steam at Frames Bowling Lounge before the frenzy of Fashion Week begins in NYC
New York, NY (PRWEB) August 21, 2012
Jason Wu and fellow fashionable friends were seen letting loose with a few rounds of bowling at Frames Bowling Lounge on Saturday afternoon. Blowing off steam before the pressures of fashion week, perhaps?
He signed a few autographs but remained pretty low key.
Jason Wu, beloved designer to stars and celebrities from Ginnifer Goodwin to Michelle Obama, will be showing his Spring 2013 collection during NY Fashion Week on Sept 7th. His highly acclaimed collaboration for Target caused such a buzz with fans last winter, it caused the company's website to crash.
He was with friends and coworkers, and they ordered laneside service which included platters of chicken bites, spring rolls, and coconut shrimp. The team drank doubles of Grey Goose and club soda, Patron margaritas, Sauvignon Blancs, and Yuenglings.
Mr. Wu, whose style is primarily casual with an edge, was wearing blue jeans and a plain white tee, layering on a gray long sleeve sweater when he left. Always trendy, Wu held a small black clutch bag under his arm.
They had two lanes and they competed with each other for over two hours. The manager at Frames genuinely enjoyed the company of the friendly group, and extended their game play an additional half hour on the house so they could finish their game. Loser paid the tab, and Jason Wu's team won. They had a fantastic time, and when a staff member invited them back, they assured him they would return.
On the red carpet, he brings the glam. At Frames Bowling Lounge? It was all game.
Countdown to fashion week! Don't strike out, Wu.