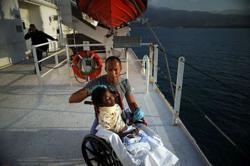 I was a therapists in some ways, but she was my therapist because she was such an inspiration"
New York, NY (PRWEB) August 23, 2012
Armed with only a solar powered backpack, a headlamp, a t-shirt, his TRX and his favorite book, Project HOPE volunteer and physical therapist Claude Hillel set out to make a difference in Haiti. Having viewed the devastation of his homeland on television and having lost relatives in the earthquake, Hillel felt compelled to go to Haiti to help. "I knew that I had something that would be of value at a moment like that," explains Hillel of his desire to go to Haiti. As a senior physical therapists at NY Sports Medicine and Physical Therapy (NYSM) in Manhattan, Claude knew he could be of help to those suffering from orthopedic injuries as a result of the horrific quake.
Project HOPE has been in existence since 1958 and has served some 35 countries worldwide with the help of medical volunteers like Claude Hillel. The Haitian native's remarkable volunteer experience in the earthquake ravaged country was documented by award-winning filmmaker Joshua Seftel. The release of this film, entitled HOPE on Film, marks the third in a series of short films documenting Project HOPE's incredible, life changing work around the world. Seftel's past work has aired on PBS, HBO, Showtime, Bravo, and A&E and has also been featured at the Tribeca Film Festival.
Claude specializes in treating pathologies of the spine and their contribution to dysfunctions of the extremities. As a result, the NYSM physical therapist was able to provide skillful care and assistance to many injured Haitians. In the documentary, Hillel tells of one of his most rewarding experiences working with a 28 year old mother of four who lost both her legs. Through her strong will and Hillel's expert guidance, the young woman was walking with the help of prosthetic legs in 7 weeks' time. "I was a therapists in some ways, but she was my therapist because she was such an inspiration," remarks Hillel regarding his experience. To view and share the film, click the following link http://www.huffingtonpost.com/john-p-howe-iii-md/haiti-earthquake-documentary_b_1682812.html?utm_hp_ref=email_share
ABOUT PROJECT HOPE
Since 1958, Project HOPE has worked to make health care available for people around the globe. The organization is committed to long-term sustainable health care. Their work includes educating health professionals and community health workers, strengthening health facilities, fighting diseases such as TB, HIV/AIDS and diabetes and providing humanitarian assistance through donated medicines, medical supplies and volunteer medical help. To learn more about Project Hope visit http://www.projecthope.org
ABOUT NEW YORK SPORTSMED
New York Sports Medicine and Physical Therapy provides a personalized, comprehensive and holistic approach to physical and sports medicine and rehabilitation. Through the practice of physiatry, a medical specialty that focuses on the recovery from musculoskeletal injuries, function is restored, healing is promoted, and pain is alleviated. Its approach to sports medicine is to provide a comprehensive set of options to maintain your athleticism, heal your body from injury, and keep it as pain free as possible. To learn more about NY SportsMed visit http://www.nysportsmed.com, on facebook at http://www.facebook/nysportsmed or twitter @NYSportsMed.