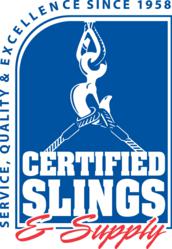 We have wanted to have our quality professional grade building products and services available on-line for a long time - Doug Worswick, CEO Certified Slings, Inc.
Casselberry, FL (PRWEB) August 24, 2012
Certified Slings & Supply has opened a new on-line store for rigging hardware, lifting slings, cargo control, iron worker tools, fall protection, hoists and lifting products. The Certified Slings & Supply new on-line store features building supply products that are used every day in the construction, power, marine and towing industries.
The brands and products featured on the new on-line store are industrial grade used by industry professionals and typically not found at your local hardware store. You will find brands like Crosby Hardware, Harrington Hoists, Lug-All, Klein tools and Capital Safety. The site also offers custom cargo control products like tie-downs for large loads, ratchet binders and chain for the towing industry.
Additionally, the store features the highest quality USA products manufactured by Certified Slings & Supply. When it comes to lifting slings, Certified Slings is arguably one of the best sling manufacturers in the world. The new site features Slingmax's Check-Fast® synthetic polyester round slings manufactured by Certifed Slings. These slings have a built in safety external warning indicator (EWI), providing an immediate pass/fail inspection system. These slings may be used for the smallest lifting projects all the way up to lifting massive bridges and even military aircraft.
Certified Slings' plan is to add more and more products in the near future. Currently Certified Slings' Reference and Service Guide contains over 3,000 products and services. To visit the store go to http://www.certifiedslings.com and click on the on-line store button on the front page. Certified Slings new on-line store accepts all major credit cards.
Established in 1958, Certified Slings is an award winning manufacturer, distributor and retailer. Products include: wire rope, chain and nylon web slings, safety and fall protection equipment, lifting and hoisting assemblies, cargo tie downs, excavator/drag line buckets and replacement parts. Certified Slings is the Slingmax® Rigging Solutions dealer for Florida with locations in Tampa, West Palm Beach, Fort Myers, Miami, Orlando and Ocala.
For more information and a complete listing of products and services, go to: http://www.CertifiedSlings.com/; email jflowers(at)certifiedslings(dot)com or call (407) 331-6677.