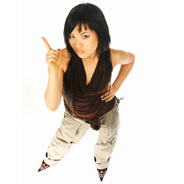 It really is a wonderful boost to hear from our clients
London, UK (PRWEB UK) 22 August 2012
La Mode London has just launched additional testimonials to a page dedicated in promoting their pride in past projects. Helen Smith, director for the very successful commercial photography company in the heart of modelling London is brimming with pride as she describes some of the delighted clients who share their experiences and give other models confidence to use the company to further their career.
"It really is a wonderful boost to hear from our clients," explains Helen. "We encourage any feedback we can get, constantly striving to provide the very best service for any aspiring model. What has been so great to see has been the recent surge in very happy customers who have taken the time and trouble to get in touch and share their experiences. We're very grateful for their comments and showing them to other models who are perhaps new to the business, is not simply to show off, although we would be lying if we didn't admit to having a few show offs around the office," she laughs, "but also to highlight our honesty."
She goes on to explain that being at the very heart of the modelling industry means having the instinct of knowing from the offset which direction a model should aim for, and that the photo shoot is so important to send a message to a model's future employers. It's also to show off their strengths.
"Each model is different and has their own unique look and we can tell straightaway which type of modelling genre they would do well in, or even if they are suitable but all. We're not in the business of simply taking a client's money, just photographing them and then letting them then find their own way in a very cutthroat world. We pride ourselves on our open and honest model advice and as part of our job; we try and gently impart our experience to all models, actors and actresses who walk through our doors."
Judging by the wonderful comments on the testimonials page, the team at La Mode London are to be trusted and the feedback certainly says a lot about a company who care about their clients. The new page to land on La Mode's website is full to bursting with testimonials from past clients, with some very famous faces making an appearance too. Comments include thanks, love and enjoyment, picking out photographers and beauty stylists who all play their part in running a very busy commercial photography studio.
One comment which Helen would particularly like to promote is that of an aspiring model new to the business. Tamarra Harris representing Mark Anthony in this year's infamous Wella hair show and she said recently,
"I've always wanted to get into modelling, when I had my photo shoot with La Mode, that was when my career really took off. I was made to feel at home and La Mode really helped me in so many ways than I could have ever dream of. And I am so grateful to everyone who helped me get this far."
This is just one of the huge number of testimonials which have arrived recently to the e-mail inbox at http://www.lamodelondon.com and Helen is very proud of her team. It seems clear that the model advice centre and photographic studio produce exceptional work standards with a creative team at the ready, from beginning to postproduction. Visit La Mode London and see the testimonials providing the truth behind a company who are clearly very good at their job.