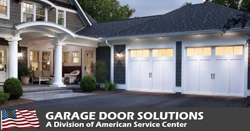 Dallas, TX (PRWEB) August 23, 2012
For more than 25 years, Garage Door Solutions of Dallas, TX, has been providing customers with full service garage and overhead door repairs, service, and installation. Over the years, the company has worked to build a reputation for quality work done right by providing customers with prompt, 24/7 service. Now, the company's hard work is being recognized, as EBSCO Research has once again named Garage Door Solutions as their "Best Pick" for residential garage door solutions.
By making customer satisfaction a top priority, Garage Door Solutions has earned the recognition of EBSCO Research as a "Best Pick" for a third year in a row. EBSCO Research is an independent research organization that polls consumers to find the very best businesses in their area. By surveying more than one thousand home owners in the DFW Metroplex, EBSCO Research found that Garage Door Solutions was high on the list of reputable contractors. These surveys led EBSCO Research to award Garage Door Solutions the coveted "Best Pick" honor for the third year running.
The "Best Pick" award is symbolic of Garage Door Solutions' continued dedication to provide consumers with the highest quality service in the Metroplex. Winning this award was a team effort, with every member of the company, from the person answering the phones to the trained technicians working in clients' homes, operating according to the company's customer-first philosophy. Those looking for garage door service backed by decades of experience are encouraged to contact Garage Door Solutions to learn more about their list of services. The company specializes in all aspects of commercial and residential garage door and garage door opener service and installation. Garage Door Solutions uses only industry-leading materials to ensure service that lasts.
About the company:
Garage Door Solutions provides 24/7 emergency services for any unexpected mishap. Garage Door Solutions Office and Warehouse is located at 4612 S Buckner Blvd, with satellite offices throughout the Metroplex.. For more information visit their website at http://www.americanservicecenterdfw.com.