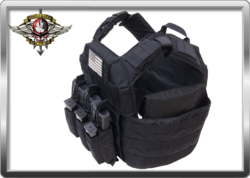 I wake up every day thinking how can we make gear that can better keep a police officer or military operator safe
Los Angeles, California (PRWEB) August 23, 2012
Shellback Tactical, Inc from the beginning has focused on not only providing gear, but providing solutions to a problem. Michael Wratten, President of Shellback Tactical Inc and designer is a full time police officer in Southern California with 16 years of experience. Michael states " I wake up every day thinking how can we make gear that can better protect a front line police officer or military operator. When we started there was a void in the market to protect front line police officers in dangerous active shooter incidents. With that void we originally based our designs to create equipment to assist the front line law enforcement officers in his or her duties to prevail in a high threat active shooter incident. The Go Time chest rig was born that led to a full line including the Banshee Plate Carrier that assist the front line officer and military alike."
We had the opportunity to work with one of the largest metropolitan law enforcement agencies, the Los Angeles Police Department (L.A.P.D). Over a period of time we worked closely in introducing the Banshee Plate Carrier to the department and worked through the testing and evaluation (T&E) process. The Los Angeles Police Department has a rigorous testing and evaluation process it puts equipment through for approval. At the end of the process our Banshee Plate Carrier was approved on their approved gear list allowing any officer the option to use our plate carrier. To have a product approved by them to protect their officers is an honor and a testament to our gear.
About Shellback Tactical, Inc.
Founded in 2003, Shellback Tactical , Inc. is a US Company, tactical nylon gear manufacture and top online destination for technical and high-performance gear. Shellback Tactical , Inc. serves many from Law Enforcement, Military, DOD and Federal agencies in creating and obtaining the equipment for a specific requirement. Our customers are demanding professionals that have to depend on their gear in life threatening situations. We consider our gear professional grade gear. All Shellback Tactical branded nylon tactical gear is 100% proudly Made in the USA, constructed of US materials and Full Berry Amendment compliant. Our gear is also backed by an unconditional lifetime warranty. Currently offering over 1000 items, from 300 brands and access to 800+ tactical vendors. Shellback Tactical Inc, is prepared to handle your need and fulfill your agencies requirements.
"Operator Evolved Gear"
Operator Evolved Gear is a mindset and commitment that we at Shellback Tactical take towards all of our current tactical equipment and future projects. The world is changing very rapidly and with that, the gear needs of the Operator evolve and change with it. This new design approach to the way we look at designing and building tactical equipment is our commitment to you the Operator. Whether you're mission and needs are Law Enforcement or Military based you can count on us to answer the call with cutting edge, forward thinking, advanced equipment made with the highest quality materials and design processes that will exceed your needs and expectations.
Shellback Tactical is "Operator Evolved Gear"