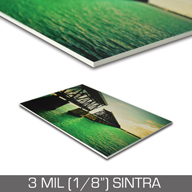 Unlike many signs, PVC sign board does not crack, peel, chip or absorb liquids
Glendale, California (PRWEB) August 24, 2012
DPS Banners is glad to announce their recent expansion efforts in the PVC sign categories of their site. Customers can now get a range of PVC signs to meet their needs.
Customers may know PVC signs as plastic signs, vinyl signs or even Sintra signs. However they are known, DPS offers these high quality signs in three thicknesses: 1 mil, 3 mil and 6 mil. Many businesses choose to shop plastic signs due to their longevity factor and the versatile use they provide. Sintra signs can be used indoors as well as outdoors. They are also printed on in full color, at no additional charge. Customers can even choose to have the sign's message printed on one or both sides for maximum exposure.
The company makes customizing a plastic advertising sign easy. Customers simply upload their custom graphic via the upload section on the site and it is then downloaded by the company and placed on the PVC sign of their choice.
Unlike many signs, PVC sign board does not crack, peel, chip or absorb liquids. This makes it one of the most versatile advertising options on the market. These signs, when stored properly when not in use, can be reused over and over again.
DPSbanners.com consistently brings new materials and advertising tools on the site for customers around the nation. The company urges customers to check the site often for great deals, promotional savings and new products.
For more information regarding PVC plastic signs from DPS Banners, please visit the company website at http://www.dpsbanners.com
About Digital Pre-Press Services, Inc.:
Founded in 1996, Digital Pre-Press Services, Inc. is visible online at DPSBanners.com and on location in Glendale, California. The company provides simple, affordable and professionally designed banners that can be personalized and customized exclusively online. Through the site, DPS has a wide array of products including banner stands, window clings, car magnets, retractable banner stands, sidewalk signs, pre-designed banners and more.
Contact:
Digital Pre-Press Services, Inc.
Toll Free (888) 790-2665
Local (818) 240-2004
Fax (818) 240-3456