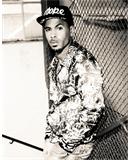 The photographs speak for themselves
London UK (PRWEB UK) 22 August 2012
The model advice specialists in the heart of modelling London are no strangers to having many models showing off their swagger on a regular basis. But it's not only models who come to the commercial photography company to provide themselves with superb professional photographs to further their careers.
Michael MC Harvey is 33 and looks stunningly youthful in the collection of photographs taken at the studios of La Mode London recently, to promote his appearance in the Channel 5's latest Celebrity Big Brother series. The UK garage and grime scene 'Master of Ceremonies' was clearly a natural in front of the camera and the resulting photo shoot was a lot of fun for all concerned.
Former non-league footballer Harvey was a founder member of the music collective So Solid Crew, whose biggest hit '21 seconds' reached number one in 2001. Currently causing a stir in the Big Brother house, the rapper showed he not only had musical abilities but showed off his acting skills whilst posing in front of the camera at La Mode. He was then whisked away to join fellow celebrities, Julie Goodyear, Julian Clary and models Jasmine Lennard and Rhian Sugden. A penchant for lady vocalists, he married Alesha Dixon, who was an MC herself in the girl group Mystique and has a beautiful three year old baby girl with singer Javine Hylton.
"It was wonderful to work with MC Harvey," explains Helen Smith, director for La Mode." It's great to work with somebody who has such confidence and he didn't need much direction from the photographers. He is clearly no stranger to the limelight and the photo shoot went very smoothly. We were delighted with the results and the photographs speak for themselves."
La Mode not only provide professional portfolios for any aspiring model to further their careers, but the very busy photography company also provide top-notch model advice for all their clients .Having provided publicity photographs for several famous faces, La Mode can boast a testimonial page full to bursting with accolades from celebrities from all parts of the entertainment industry.
"We still get a little star struck here at La Mode,"explains Helen." We've had lots of famous faces visit us over the years, who have all left wonderful feedback, clearly enjoying their experience whilst spending time with us here in our studios. It's great to work with successful actors and actresses, as well as new and upcoming bands and singers. Working with a Celebrity Big Brother contestant was a real treat and MC Harvey looks fantastic in his photographs." She goes on to say," we shall all be watching him and keeping our fingers crossed he can stay in the Big Brother house as long as possible."
La mode specialises in tailored model advice for new models but also for anyone who seeks guidance in the entertainment industry. Whilst undertaking their very successful photo shoot days, the experts behind the camera, the stylists and make-up artists also provide tips and tricks which they pass on to not only models, but to singers and songwriters, actors and actresses, hip-hop artists and rappers. The advice is ongoing and they assure any model who leaves the studios with their portfolios, that La Mode is still watching, Big Brother style, if they need any help in the future.
Visit http://www.lamodelondon.com and see the very latest perfectly posed portfolios to be launched on the website on a daily basis.