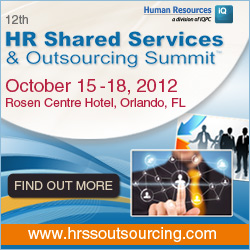 This was a very enlightening experience that helped show me how other companies got to where they are today. Can't wait for the next one!
Orlando, FL (PRWEB) August 22, 2012
The 11th HR Shared Services & Outsourcing Summit showed record numbers that brought over 100 corporate practitioners from across the globe to share best practices, network extensively and benchmark their shared services operations. The Summit also featured sponsors Enwisen, ScottMadden, PricewaterhouseCoopers, Neocase, Empower Software Solutions and CIC Plus who shared top client case studies, best practices and HR solutions. See a list of past attendees
Following this tremendous success, the 12th HR Shared Services & Outsourcing Summit is ready to break records again. The complete agenda is now available on the event website.
New on the agenda this October:

More structured networking opportunities: roundtables, discussion forums and panel debates
90% new speakers for new stories, fresh perspectives and 10% returning speakers for continuous learning
On point content: doing more with less, HR compliance, social media, globalization and more
Customized learning via dual track sessions on Planning & Launching and Service Excellence & Expansion
Coca-Cola Refreshments site tour
New speakers for the October Summit include:
Michael Tindall, VP Worldwide Service Delivery, Becton, Dickinson and Company
Kym Burke, VP HR Connect, Iron Mountain
Craig Warren, Director of Transformation, Best Buy
Rod Musser, VP HR Shared Services & Benefits, AECOM
Anne May, Director HR Services, Siemens Global Shared Service
Mitch Sparber, Head of HR Service Center Operations NA, Farmers Insurance
Patty Babler, NA Shared Services Leader, Cargill
Michael Pilnick, Former Chief HR Officer, Wolters Kluwer
Nadine Hogan, Director of Global HR Operations, Unisys
Deanna Schuerbeke, AVP Employee & Corporate Service, Standard Insurance Company
For more information on the 12th HR Shared Service & Outsourcing Summit, please visit http://www.hrssoutsourcing.com or contact Gahwui Kim.