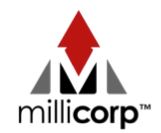 Chris said "I'm delighted to be joining the Board of Millicorp and excited to be an active advisor to this dedicated group who are leading the way as visionaries in telecommunications".
Fort Myers, Fl (PRWEB) August 22, 2012
Millicorp announced the appointment of Chris Palermo President and CEO of Global Communication Networks, (GCNsolutions.com) to the Board of Directors today. After several candidates were reviewed, it was a unanimous choice to appoint Chris Palermo to the Board where he will also serve as an advisor to Millicorp, (http://www.Millicorp.com ). Chris brings vast experience and knowledge to the team.
During the board meeting the CEO and President of Millicorp, Timothy Meade reported "We've been fortunate to have always had an experienced and seasoned board members but we needed to enhance the team with a technologist strategist and entrepreneurial spirit, our choice was easy, Chris is that person". He continued "Chris' perspective perfectly complements our unique and rapidly growing company, we are pleased that he accepted and joined our team'. During the meeting Chris stated "I'm delighted to be joining the Board of Millicorp and excited to be an active advisor to this dedicated group who are leading the way as visionaries in telecommunications".
Although miles apart, interestingly Chris Palermo's journey before he joined the Millicorp team as an advisor paralleled that of Tim's. Mr. Palermo graduated from the University of Florida and he quickly began his career in telecom. While working in the industry for more than two decades Mr. Palermo was instinctually preparing himself to launch his own company in 1997, Global Communication Networks, Inc where he remains CEO and President. His leadership skills led the company into one of the leading providers of IP Transit, colocation, and network solutions to some of the largest companies in the world. Global Communication Networks made the INC. 500/5000 list of America's fastest growing companies in both 2011 and 2012 and currently ranks as the 45th fastest growing telecommunications company in the US.
While Mr. Palermo was beginning his college and professional career, Timothy Meade was simultaneously beginning his. Mr. Meade attended Ohio State University and soon after he began his career as the software developer of Multi-Platform PKZIP data compression software and the exclusive global reseller for WinZIP. This led him onward and he launched Ascent Solutions, Inc. (ASI) where he served as CEO and president and also made the Inc 500 list twice. After he sold ASI, Mr. Meade in 2008 launched Millicorp.
The coalition of Mr. Palermo and Mr. Meade brings diversity and command to the telecommunications industry. The newly joined team is multi layered and dynamic and each of these men have made 'The Inc List' more than once. It is certain the future of the telecom industry is now and will continue to grow at incredible speed which sets the stage for endless opportunities to re-imagine the way the world communicates, Millicorp is ready.
About Global Communication Networks: GCN provides SMB to Fortune 500 with voice, data, and co-location and managed data center services solutions from over 150 partner providers worldwide. The needs of each client are met individually globally by offering broad and diverse solutions and as a consultative technology agency. More information about Global Communications Networks can be found at: http://www.gcnsolutions.com
About Millicorp: Millicorp is a global provider of communication products, services and applications. Millicorp provides a range of services for both consumers and small/medium-sized businesses such as MilliTalk, ConsCallHome and MilliVox. Millicorp is an FCC registered telecommunications company. MilliVox is the wholesale division of Millicorp. It is an evolutionary solution engineered with an advanced stage infrastructure to deliver a reliable, simple to use and affordable wholesale communications network with a nationwide footprint.
For information about any of the family of Millicorp products or services please visit http://www.Millicorp.com, http://www.MilliTalk.com, http://Millivox.com and http://www.conscallhome.com
Press Contact:
Donovan Osborne Millicorp, Director of Communications, 239-443-5882
###