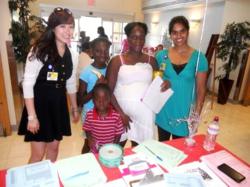 Camden, New Jersey (PRWEB) August 21, 2012
Lourdes Medical Associates, Lourdes Center for Public Health and Lourdes Health Foundation recently held a health and family-fun event at the Osborn Family Health Center, which offers primary and specialty care services to residents of Camden City and surrounding municipalities – many of which lack sufficient health care.
Over 200 people attended the fair and more than 15 Lourdes and local organizations such as the Lourdes Wellness Center, Lourdes Stroke Services, the Boys & Girls Club of Camden County, the American Association for Cancer Research and the Southern New Jersey Perinatal Cooperative were present to connect local residents with health education and community services. Topics represented included diabetes education, cancer awareness, stroke information, infant/prenatal education, literacy promotion and youth enrichment opportunities.
Patrons of every age enjoyed prizes, face painting and free food provided by Lourdes' Food and Nutrition Department and the Philly Pretzel Factory, who generously donated 300 soft pretzels for the event.
About the Osborn Family Health Center
Located in a state-of-the-art facility across the street from Our Lady of Lourdes Medical Center, the Osborn Family Health Center has offered primary and specialty care to residents of Camden City and surrounding municipalities, with a particular focus on providing optimal prenatal care to women and their families, for more than 30 years.
Osborn serves more than 45,000 patients a year. Over the past three decades, Osborn's dedicated staff has provided more than 1 million primary and specialty care visits to the poor and underserved of Camden.