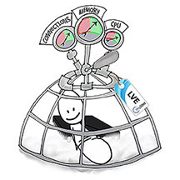 The latest figures show that shared hosting providers recognize the value of CloudLinux, and are deploying the OS on all their shared hosting servers.
Princeton, NJ (PRWEB) August 22, 2012
CloudLinux (http://www.cloudlinux.com), the developer of the only operating system (OS) tailored to the needs of shared web hosting providers, announced today its latest sales and distribution figures. These figures reveal a particularly high adoption rate, with 9,000 servers now running on the CloudLinux platform.
"This is a momentous occasion for the CloudLinux team," says Igor Seletskiy, Founder and CEO at CloudLinux. "We have always had absolute confidence in CloudLinux to improve the level of service that hosting companies can offer and enhance the experience of their customers – but nobody's opinion is more important than the industry's. The latest figures show that shared hosting providers recognize the value of CloudLinux, and are deploying the OS on all their shared hosting servers."
A distribution of the popular Linux operating system, CloudLinux runs on web hosting servers to manage the relationship between applications and hardware resources. The operating system is also responsible for running core services needed to keep a server operational. Conventionally, shared hosting services are limited by the fact that hardware resources, such as RAM and CPU, cannot be granted exclusively to one user. Instead, most Linux distributions allocate resources on the fly, as and when they are required. CloudLinux makes it possible for shared hosting providers to define fixed system resources for each user. As a result, hosting companies can more confidently sell their servers to capacity, without the risk of unpredictable traffic spikes damaging overall performance for every account. In the relatively short time since CloudLinux became available, more than 1,000 paying customers have ordered CloudLinux for use on their servers.
"CloudLinux has become extremely popular because of how it benefits hosting companies," says Seletskiy. "It is not another Linux distribution with the same core Linux features, but rather a more unique platform that actively changes the way shared hosting plans can be sold. In addition to helping shared hosting providers get more from their servers, CloudLinux is also attractive to customers looking for the most reliable shared hosting services available. Although we are happy to have reached 1,000 customers, we are particularly happy that these customers account for around 9,000 individual servers. That means that millions of people are getting better shared hosting as a direct result of CloudLinux OS."
For customers, stability is a vital component of any shared web hosting plan. Content that is slow to load and servers that become suddenly unavailable result in lost earnings from sales and leads. In addition, poor website performance damages a company's reputation. In shared hosting where hardware resources are not allocated to each individual customer, the behavior of one account can significantly impact every other user on the same server. If an operating system must divert crucial processing power, RAM, or bandwidth to one shared hosting account, performance will suffer for all others. Since CloudLinux can be used to give every account its own resources in an isolated container, the OS effectively protects shared hosting customers from the actions of their neighbors.
"I strongly believe that the features of CloudLinux have got us to where we are today," says Seletskiy. "The isolated accounts and fixed hardware resources built into Linux, the most popular operating system in the industry – these are the things that have convinced 1,000 customers to run CloudLinux on 9,000 servers. As we continue to move forward, CloudLinux remains committed to the needs of web hosting companies and shared hosting customers. I'm confident that we will sustain our impressive growth for the foreseeable future."
By addressing the web hosting industry's unique requirements, CloudLinux has rapidly evolved into a leading Linux distribution for shared hosting services. As its adoption increases, CloudLinux is positioned to become the platform of choice for shared web hosting providers.
For more details about CloudLinux, visit http://www.cloudlinux.com.
About CloudLinux
CloudLinux was founded in 2009 to address the distinctive needs of web hosting providers. The company's headquarters are in Princeton, New Jersey, and its development team, composed of employees with an appreciable proficiency in the hosting business, is based in Donetsk, Ukraine. CloudLinux is a stable, privately funded company geared toward providing the ideal operating system (OS) to make even the most intricate and divergent hosting needs more straightforward. The company's flagship OS is optimized to help hosting providers deliver more stable shared hosting services, with account isolation and resource allocation on an OS level.
For more information on CloudLinux, visit http://www.cloudlinux.com.
Media Contact:
Dave Young
CloudLinux (Press: Young Copy)
1-678-500-9550
dave(at)youngcopy(dot)com