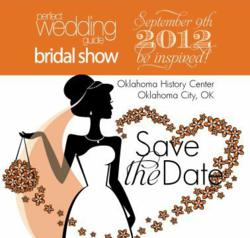 Our show is not only meant to assist you in planning your wedding but truly inspire you! -- Stephanie Hill, publisher, Perfect Wedding Guide
Oklahoma City, Oklahoma (PRWEB) August 23, 2012
Brides to be across the Central Oklahoma area are invited to attend Perfect Wedding Guide's Fall Bridal Show at the beautiful Oklahoma History Center located at 800 Nazih Zuhdi Drive, in Oklahoma City on Sunday, September 9, 2012 from 12:00 – 4:00pm
The locally focused bridal show will featuring some of Oklahoma City's premier wedding professionals. Brides of any budget can meet potential vendors while learning about popular tends for the upcoming year.
"With the popularity of Pinterest.com, brides have access to more wedding ideas than ever before. They love to dream about their big day," says Perfect Wedding Guide Publisher Stephanie Hill. "By attending a Perfect Wedding Guide bridal show, brides will be able to see wedding ideas brought to life and talk to the vendors who can help them create the wedding of their dreams. Our show is not only meant to assist you in planning your wedding but truly inspire you!"
Features of this amazing show will include a grand prize by Mitchener-Farrand Jewelers and The Wedding Belle. Also, hundreds of dollars in door prizes, a live ice carving demo by Ken Burkemper of Ideas In Ice, a fashion show, sugar stroll, "Made in Oklahoma" products for local flair, a design table gallery, ice gardens and much more. Sponsors include, Marianne's Rentals, Innovative Event Solutions, The Wedding Belle, Café Evoke, Tony Foss Flowers, Beloved Bridal Boutique, Tuxedo Junction, Running Wild Catering and Society of Edmond Wedding Professionals.
Tickets for the Perfect Wedding Guide Bridal Show are $10.00 at the door. Pre-registration tickets are available online for $5.00 at http://www.okcpwg.com. For more information, please call Stephanie Hill at 405-206-2931.
About Perfect Wedding Guide
For over 20 years, we have been dedicated to creating innovative wedding planning solutions for brides of all budgets. Our company offers couples a number of fun, useful, and FREE products to help make wedding planning less of a chore and more of a treat. Our local guides and bridal shows are available coast-to-coast in over 40 markets, showcasing some of country's top wedding vendors who work right in the bride's backyard. Our national website, PerfectWeddingGuide.com, is full of fresh planning tips and wedding ideas, wedding news, an extensive photo gallery for inspiration, easy-to-use wedding planning tools, as well as a wedding blog community hosted by our national wedding planning expert. For more information, visit the local Oklahoma City site, http://central-oklahoma-oklahoma-city.perfectweddingguide.com/