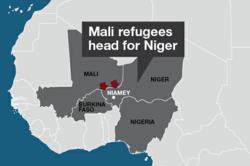 The camp in Abala has reached its capacity and ACTED is working with the rest of the humanitarian community to expand it
Sarasota, Fla. (PRWEB) August 21, 2012
International disaster relief organization, ShelterBox has sent 497 disaster relief tents to bring shelter to families suffering from food insecurity, conflict and political instability, which has forced countless civilians to flee their homes from Mali, a country in West Africa's Sahel region.
The ShelterBox tents are being transported to Abala refugee camp managed by ACTED, which is approximately 170 kilometers to the northeast of Niamey in Niger.
The United Nations Office for the Coordination of Humanitarian Affairs (OCHA) is calling Mali's situation a "complex emergency," which has displaced over 435,000 people.
Food insecurity in the Sahel region has been increasing annually with crops failing due to the lack of rainfall as well as a growing locust threat. With this and the droughts in the United States and Russia, food prices have rocketed, affecting over four million Malian people.
Ongoing conflict and political instability in Mali does not help this already difficult situation.
The nomadic Tuaregs, who are considered an indigenous tribe in the region, have long called for the creation of an independent state and have risen up against the Malian government numerous times since the 1960s.
'Attacking towns'
At the time of Mali's general elections in January this year, many heavily armed Tuareg fighters arrived from Libya, where they had been fighting for Colonel Muammar Gadaffi. Many reports said they brought with them weapons from Gadaffi's regime and began attacking towns in northern Mali.
The Tuaregs now have the Timbuktu region and other areas in the north, which has forced thousands of families to flee into neighboring countries, including Niger.
There are also armed Islamist groups that are acting under the aegis of Al-Qaeda in the Islamic Maghreb (AQIM) who have occupied further parts of northern Mali, causing further civil unrest.
ShelterBox has been working with the Agency for Technical Cooperation and Development (ACTED), who has been managing a refugee camp in Niger's Tillaberi region with over 11,000 Malian refugees.
'Camp reached capacity'
"The camp in Abala has reached its capacity and ACTED is working with the rest of the humanitarian community to expand it," said Tom Lay, ShelterBox operations coordinator. "They want to use our tents to help house more families arriving from Mali. But issues surrounding a difference between our tents and the tents already set up need to be carefully considered or we could cause inequalities and tensions within the camp.
"We are exploring different options in collaboration with ACTED to find the right solution, whether using the tents at the camp; as contingency stocks for future shelter needs; or for those families who have been affected by the recent flash floods in Niger's Niamey."
Global logistics company, UPS offered free freight for the ShelterBox aid to be sent to Mali's Bamako from Frankfurt, Germany, as part of UPS's Humanitarian Relief Program that provides logistical help to aid agencies seeking to reach those who need help the most.
'Critical relief supplies'
"When a humanitarian crisis occurs, logistics immediately becomes key to saving lives. This is the third movement of critical relief supplies to the Sahel region of Africa that UPS has been involved in since April as there's a lot of need," said Dan Brutto, president of UPS International. "UPS's role has been to utilize our capabilities to efficiently deliver our NGO partners' supplies by consolidating them and we're honored to be able to help provide our expertise."
Mali is one of the many countries in the Sahel region that is suffering from food insecurity and conflict. Earlier this year, the UN estimated nearly 19 million people in the Sahel were at risk of being food insecure.
ABOUT SHELTERBOX USA
Since 2000, ShelterBox has provided shelter, warmth and dignity following more than 180 disasters in over 80 countries. ShelterBox instantly responds to earthquake, volcano, flood, hurricane, cyclone, tsunami or conflict by delivering boxes of aid. Each iconic green ShelterBox contains a disaster relief tent for an extended family, stove, blankets and water filtration system, among other tools for survival. ShelterBox's American affiliate, ShelterBox USA is nationally headquartered in Sarasota, Florida. Individual tax-deductible donations to ShelterBox USA can be made at http://www.shelterboxusa.org, (941) 907-6036 or via text message by sending SHELTER to 20222 for a one-time $10 donation.