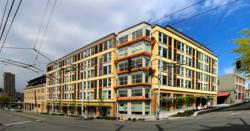 "The Citizen demonstrates the incredibly strong market demand that exists for well-designed homes in Seattle's transit-oriented neighborhoods."
Seattle, WA (PRWEB) August 22, 2012
Wallace Properties has successfully leased 100 percent of the 107 homes in its newest apartment community, Citizen of the Pike Pine, in less than four months after coming to market.
"The pace of the lease-up and strength of the rents were beyond our expectations" said Kevin Wallace, President of Wallace Properties. "The Citizen demonstrates the incredibly strong market demand that exists for well-designed homes in Seattle's transit-oriented neighborhoods."
Each of the Citizen of the Pike Pine's 107 homes offers modern design and an attention to detail that fits the busy city lifestyle of Seattleites. The complex offers accommodations for those seeking studios, open one-bedrooms, one-bedrooms and loft apartments. Rents range from $1,100 to $1,900 a month. Each unit includes large windows, low-VOC sealants, stainless kitchen appliances, and a full-sized washer and dryer. Bike racks and EV car charging stations are installed in the parking garage to encourage eco-friendly transportation.
Citizen also received LEED Silver certification from the U.S. Green Build Council, an achievement very few rental apartment communities in Seattle have attained. Located at 1222 E. Madison in the Pike Pine triangle of Capitol Hill, the apartments are within one mile of downtown Seattle's business district and half a mile away from the light rail station scheduled for completion in 2015. Walkscore.com gives the project a rare perfect score for walkability.
Wallace Properties developed The Citizen of the Pike Pine apartment project with general contractor RAFN Company. Baylis Architects designed the building, Northwestern Mutual provided financing for the project and Pinnacle Realty provides residential management and leasing.
About Wallace Properties Inc.
Based in Bellevue, Washington, Wallace Properties, Inc. is a full-service commercial real estate firm that seeks to provide the highest quality in development, sales, leasing and property management services. By employing a team approach, which utilizes the specialized expertise of each team member, the company provides effective solutions to meet the continually changing commercial real estate environment. As a result of its long standing professionalism and commitment to the community, Wallace Properties has earned its reputation as an institution of trust and integrity.
###