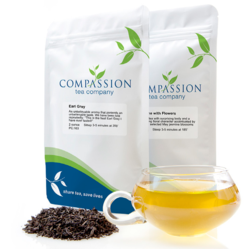 "Memberships form the backbone of our business. Through our membership program, we have a sustainable flow of income which in turn helps us send regular shipments of medicines and medical supplies to Africa."
Clovis, CA (PRWEB) August 23, 2012
Compassion Tea Company is excited to announce the launch of its new 9-month Student Membership offering. The membership follows the school calendar year and is aimed at students heading off to college or university. Students will receive two pouches of specially selected teas each month (about 50 to 60 infusions per month) delivered to their on-campus address. Priced at $110, this makes a great gift for a parent, grandparent, godparent, or friend to give to a special student.
Compassion Tea also offers a variety of memberships for personal use or as gifts. "The 9-month Student Membership rounds out our gift offerings," explains Lee Kennedy, president of the company. Compassion Tea also offers a 6-month and a 12-month gift membership. The regular memberships start at $10 per month and can be chosen according to loose tea, pyramid bagged tea, or even decaf/caffeine-free tea. Each membership provides a member with 2 pouches of tea per month, discounts on shipping and handling, discounts on other teas and accessories, as well as member-only specials.
"Memberships form the backbone of our business," said co-director Linda Taggart. "Through our membership program, we have a sustainable flow of income which in turn helps us send regular shipments of medicines and medical supplies to Africa." Compassion Tea gives 100% of its after-tax profits directly to its parent organization, CompassioNow. CompassioNow, a nonprofit organization, partners with medical clinics in South Africa, Kenya, Tanzania, and Zambia to provide medical care to people where medical care is minimal or non-existent. Regularly, donated medical supplies and medicines are either carried over or shipped to these clinics in Africa where they are used to save the lives of people who walk miles and wait hours for the only medical care around. CompassioNow also supplies funds for staffing at these clinics as well as for projects, maintenance, and transportation needs.
In an effort to "share tea, save lives," Compassion Tea Company sells premium teas online and donates 100% of its after-tax profits to CompassioNow. Through the sale of tea and tea memberships and its innovative relationship with CompassioNow, Compassion Tea Company provides medical care to "the world's least served."
About Compassion Tea Company
Compassion Tea Company is known for its excellent products and services and is widely recognized for donating 100% of its after-tax profits to a charity that brings health and healing to individuals and communities in rural Africa. The relationship between Compassion Tea Company and its parent organization, CompassioNow, is an innovative linkage between premium products and funding for a great cause.
Linda Taggart, Director
Compassion Tea Company
1-855-SHR-TEAS
Linda(at)compassiontea(dot)com
http://www.compassiontea.wordpress.com