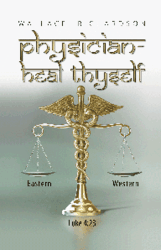 "(The author) asks readers to ecome aware of their soul, what he calls 'the world of Spirit.'
El Dorado Hills, CA (PRWEB) August 22, 2012
The biblical quote "Physician, heal thyself" (written long before Western medicine had developed into its current state) provides a powerful starting point as the author and his wife compare different approaches to medical care and healing. In his new book, Wallace Richardson explores Eastern teachings, focusing on the energy forces overlying the endocrine glands, to see how healing forces work, while Jenny Richardson uses a Western approach, focusing on the endocrine glands and their relationship to the body.
"Physician, Heal Thyself" details each region of the body, from the skin to the nervous and endocrine systems, as well as how it relates to different areas of Eastern teaching, such as karma, chakra centers, the Zodiac signs, the Seven Rays, or the Seven Keys of Life.
Wallace asks readers to become aware of their Soul, in what he calls "the world of Spirit," working through their Emotional, Mental and Etheric bodies.
"The Soul is the divine expression of God, working through Spirit." He writes. "The East lays the emphasis upon the spiritual nature of man, and believes that the physical nature itself is the result of spiritual activity." Above all, Wallace promotes balance in this thought-provoking book, no matter which approach to wellness readers take, because good health is of utmost important in order to raise consciousness to ever higher levels.
Author Wallace Richardson, born in Southern California not long before the "Great Depression, served in the U.S. Navy during World War II, including time as a Navy fighter pilot. He left the service to pursue advanced education, but was recalled to active duty during the Berlin Blockade, and again when the Korean War broke out. He flew for United Air Lines for more than 30 years before retiring. Richardson has written "Revelations Revealed" and is co-author of "The Path to Illumination" and "The Spiritual Value of Gem Stones."
----------
For additional information, please visit http://www.wallacerichardson.com.
Physician – Heal Thyself
Wallace Richardson
Dog Ear Publishing
ISBN: 978-1-4575-0775-5 120 pages $19.45 US
Available at Ingram, Amazon.com, Barnes & Noble and fine bookstores everywhere.
About Dog Ear Publishing, LLC
Dog Ear Publishing offers completely customized self-publishing services for independent authors. We provide cost-effective, fast, and highly profitable services to publish and distribute independently published books. Our book publishing and distribution services reach worldwide. Dog Ear authors retain all rights and complete creative control throughout the entire self-publishing process. Self-publishing services are available globally at http://www.dogearpublishing.net and from our offices in Indianapolis.
Dog Ear Publishing – self-publishing that actually makes sense.