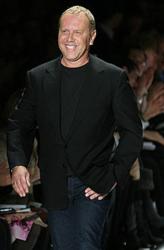 You see some people with fashion and they try too hard and the clothes look like an accoutrement on them. The body, the movement and the fashion don't seem to be one.
Houston, TX (PRWEB) August 23, 2012
To help luxury lovers stay informed on the latest in upscale style and Hollywood happenings, Rodeo Drive Resale (http://www.shopRDR.com), premier reseller of 100% authentic guaranteed handbags and pieces such as Louis Vuitton purses, Gucci wallets and Tiffany & Co. jewelry, highlights the latest in celebrity and designer fashion news.
1) MICHAEL KORS MAKES 'TIME' FOR NYC: "Project Runway" judge and top designer handbag and apparel maker Michael Kors recently unveiled a special timepiece dedicated to one of the world's fashion capitals. "I like the idea that our jet-set customers can wear this watch anywhere in the world and still have a piece of New York with them," WWD quoted Kors as saying on August 16 about his New York Runway Watch. According to WWD, only 2,000 of the limited-edition watches will be sold at select retailers and online at michaelkors.com for $650. Not to worry: If you it's Michael Kors or any other discount designer jewelry, ShopRDR.com has a wide assortment to choose from.
2) DATE FOR HOLMES' RUNWAY DEBUT REVEALED: Twice a year, lovers of authentic high-end clothing and accessories are treated to the latest in couture style during New York Fashion Week. On Sept. 9, luxury lovers and fans of actress Katie Holmes will be privy to the NYFW runway debut of her clothing line, Holmes & Yang. Although several brands carried by ShopRDR.com are set to host shows during Fashion Week, all eyes are expected be on Holmes, whose label has seen a surge in popularity since her high profile split from actor Tom Cruise: "Every editor will be at the spring 2013 Holmes & Yang showing this September," David Zyla, an Emmy Award-winning stylist, told FOX411's Pop Tarts column on July 18. According to Zyla, her recent split from Cruise has amplified consumer interest in her brand. "Katie's divorce and the masterful manner in which she handled it is a shining light onto anything that she does at this moment."
3) A LARGE ORDER OF STYLE, PLEASE: One of the most popular actors in Hollywood, Matthew McConaughey has built the reputation of being a fairly laid back guy. The one time Dolce & Gabbana model tells PEOPLE that he loves a trusty pair of shorts and sandals just as much as a suit on the red carpet, and admits he is conscious of the difference between good and bad fashion: "I like fashion. I'm interested in it," he said in an August 20 story. "But I would say this: You see some people with fashion and they try too hard and the clothes look like an accoutrement on them. The body, the movement and the fashion don't seem to be one." The actor went on to compare the perfect outfit to a fine meal, stressing the importance of harmony between clothing and its wearer. "It's almost like food. You have to have the product but you also have to have the presentation. You've eaten at restaurants where the presentation is there but the food isn't. The two have to fit and feel like they're a pair."
Rodeo Drive Resale (shopRDR.com) has built a reputation of providing amazing deals on handbags, clothing and accessories from the top designers of upscale fashion. The company offers a 100% guarantee of authenticity on each item sold, and works daily with a network of clients looking to buy, sell, or for consignment of their luxury goods. ShopRDR.com loves high-end fashion, and believes finding a high quality, classic piece should be an easy, enjoyable -- and most importantly -- hassle-free shopping experience. For the finest in Louis Vuitton, Chanel, Prada, Gucci, St. John Knits, Christian Louboutin, Tiffany & Co. and more, visit RDR online at http://www.shopRDR.com or call 1-888-697-3725.
Also find shopRDR at:
Facebook: facebook.com/shopRDR
Twitter: twitter.com/shopRDR
YouTube: youtube.com/ shopRDR
Pinterest: pinterest.com/shopRDR
Rodeo Drive Resale (shopRDR.com)
1-888-697-3725
service(at)shopRDR(dot)com