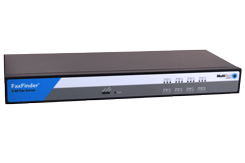 As more customers integrate using the web services API, we find they are sending larger faxes and so a more robust hardware platform was needed. The FFX40 models address these needs with four times the internal memory as previous versions. -David Tincher
Minneapolis, MN (PRWEB) August 22, 2012
Multi-Tech Systems, a world leading manufacturer of Unified Communications devices and cellular modems for M2M (machine-to-machine) communications, announces the FaxFinder FFX40 models, the latest extension to its successful fax server line. The new FaxFinder® FFX40 fax server combines a more robust hardware design and industry-leading Multi-Tech fax software, allowing organizations to easily centralize their fax operations, reduce operational costs, integrate with business applications and PBX systems, and easily integrate with any business operation.
The FaxFinder® fax server is an all-in-one appliance that allows users to send and receive faxes electronically, eliminating the need for legacy, paper-based fax machines and expensive subscription-based fax services. Incoming faxes are delivered to a recipient's email in-box or network folder so they can be accessed via personal computer, laptop or mobile device. Incoming faxes can also be routed to a network printer. Outbound faxes can be sent using the FaxFinder fax client, a Web interface, or using the T.37 email-to-fax protocol. The FaxFinder fax client also allows faxes to be sent through Microsoft® Office applications.
The newest FFX40 models build on a FaxFinder legacy that spans almost 10 years. Multi-Tech has listened to customer needs throughout this period and evolved the solution to enable the quick transmission of documents that contain many pages or images, while working with large address books.
"The FaxFinder continues to be a successful part of our product portfolio. Early models were more about replacing paper-based fax machines to streamline the faxing process, while saving on paper and toner costs. As more customers integrate using the web services API, we find they are sending larger faxes and so a more robust hardware platform was needed," said David Tincher, senior product manager. "The FFX40 models address these needs with four times the internal memory of the previous versions."
Whether transmitting legal documents or electronic health records that contain medical charts and large media files, like CT scans and MRIs, the new FFX40 models meet the critical faxing needs of today by increasing three-fold the maximum file size capacity. The expansion of internal memory from 256K to 1GB enables these larger files to be sent faster and to larger groups of recipients. Each of the new FFX40 models is also rack-mountable for easy installation and management by a company's IT department.
Multi-Tech offers value-added resellers a variety of sales tools and support, including collateral, product photos, website descriptions, product webinars and more at http://www.multitech.com/resources/reseller.go.
About Multi-Tech Systems
From turnkey fax and SMS servers to cellular modems and VOIP gateways, Multi-Tech Systems Unified Communications solutions combine quality hardware and industry-leading software to deliver the best value for small-to-mid-sized businesses. Flexible products help companies streamline business processes, increase productivity and reduce operating expenses. Multi-Tech has helped thousands of companies achieve a competitive advantage by providing innovative reliable solutions that return superior business results. Multi-Tech products are backed by 40+ years of innovation, proven by 20+ million devices deployed worldwide and reliable - we thoroughly test every product before it leaves our doors. Visit http://www.multitech.com.