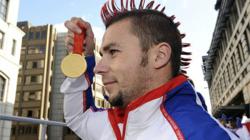 This year, taking part in training camps and competing has taken up three-quarters of my life, to the extent where being at home is strange and training is the norm
(PRWEB) August 21, 2012
Matt Skelhon's punk crop was the talk of the last Paralympics, but British shooting's golden boy insists we have seen the last of the mohican.
The 27-year-old was GB's only shooting medallist in Beijing, claiming gold in the mixed air rifle prone but he had the radical haircut as a way to ensure he made an impact at the Games regardless of his success.
Skelhon explained: "I was going to bring the mohican back but I don't think so anymore.
In Beijing I wasn't sure if I was going to win or how I was going to get on given that it was my first Games, so I thought if I don't get noticed for winning the event I'll get noticed for something!. But this year I'm pretty confident I'll be noticed for my shooting ability, so I might just keep the hair normal."
Skelhon, who lost the use of his legs in a car accident seven years ago, will be defending the title he won in Beijing, while also competing in the air rifle standing and .22 rifle prone events.
And he is confident of doing well in all three after training harder than ever before - considering anything less than 60 consecutive shots through the centre of the target a failure.
"It's endurance more than anything," he admitted. "You have to have the same control over the last shot as you did over the first.
"I suppose you're trying to be a robot – just doing the same thing over and over again 60 times identically. This year, taking part in training camps and competing has taken up three-quarters of my life, to the extent where being at home is strange and training is the norm."
But all work and no play makes Matt a dull boy and he still finds time for his other passion – remote-controlled vehicles.
"Me and one of the other shooters bring a car each to training camp and race them around the car park," he explained. I've got three radio-controlled helicopters, two planes, three cars, boats – the only thing I haven't got at the moment is a motorbike. I've gone off the helicopters, though – they're a bit expensive when you keep crashing them!"
Skelhon's driving ambitions began when his parents bought him a remote-controlled car as a 10-year-old – around the same time he discovered his dad's old air rifle in the shed.
"I saw it one day when he was getting the mower out and he let me have a go," the Peterborough marksman explained.
"We used to shoot cans in the garden and that's how it all started."
It could all finish with a triple gold haul at London's historic Royal Artillery Barracks over the next few weeks and Skelhon can't wait to get started.
"Everything has been geared towards this," he said. "I think it's going to be the biggest competition I'm ever going to go to in my lifetime. Nothing's going to match competing in such a big event on home turf, so it's going to be the pinnacle of a lot of athletes' careers."
And if Skelhon manages to repeat his Beijing heroics, it might just stop people asking daft questions about his haircut.