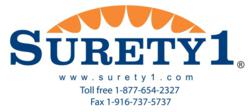 With good credit, Surety1 now has the ability to get an approval and get the bond out the door to the customer on the same day.*
Sacramento, CA (PRWEB) August 22, 2012
Surety Solutions Insurance Services, Inc. (Surety1) is excited to announce that it has added California motor vehicle dealer surety bonds to its easy to use, on line web portal. With good credit, Surety1 now has the ability to get an approval and get the bond out the door to the customer on the same day.*
The motor vehicle dealer bond guarantees compliance with state laws, federal laws, local laws, and, in some cases, the payment of all taxes or judgments. It is designed to protect the public and the State of California form wrongful, inappropriate, or unlawful actions on behalf of the auto dealer or dealership. As an estimated 40% of auto dealers went out of business from 2007 to 2010, the surety companies had poor loss experience, causing big increases in rates and higher underwriting standards. Because the market has stabilized, Surety1 has recognized this new trend and added the bond to its convenient on-line web portal. New or Used Vehicle dealers can take advantage of this world class service option. The California surety bond for vehicle dealers is a $50,000.00 obligation.
Because a California motor vehicle dealer surety bond is required in order to get a motor vehicle dealer license, purchasing a surety bond from Surety1 can mean getting a surety bond, and therefore a license, as quickly as possible.
The staff members at Surety Solutions are all California motor vehicle dealer surety bond experts, so contact them today to begin the process of purchasing a surety bond.
Surety Solutions Insurance Services, Inc. (Surety1) is an independent insurance agency based in Rancho Cordova, California and licensed in all fifty states. Surety Solutions Insurance Services, Inc. specializes in the placement of surety bonds and other specialty insurance products.
For more information on obtaining a California Motor Vehicle Dealer Surety Bond, contact Surety Solutions through its website,http://www.surety1.com, by calling toll-free, 877-654-2327, or by emailing info@surety1.com.
*Subject to underwriting approval