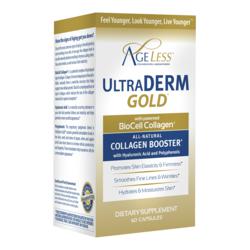 Newport Beach, CA (PRWEB) August 23, 2012
BioCell Technology, LLC announces that its flagship ingredient, BioCell Collagen®, is now featured in UltraDERM Gold™, the new healthy aging supplement from Ageless Foundation Laboratories, a division of Naturade®. The BioCell Collagen® logo is prominently displayed on its packaging, as well as various marketing efforts.
In a published study, subjects who ingested 1 gram of BioCell Collagen daily had a significant reduction in skin dryness and wrinkles/fine lines as well as an increase in collagen content and blood microcirculation. As a result, a majority of the study participants experienced a remarkable improvement in skin texture, together with hydration, reduced scaling, and an improved glow.
About UltraDERM Gold:
UltraDERM Gold with patented BioCell Collagen® is an all-natural collagen booster with Hyaluronic Acid and a proprietary blend of powerful antioxidants to increase cellular productivity and longevity. UltraDERM Gold is scientifically formulated to promote skin elasticity and firmness, smooth fine lines and wrinkles, while increasing skin hydration to promote a more youthful and radiant appearance.
For more information about purchasing UltraDERM Gold, please go to http://www.agelessfoundation.com, or call 1-800-421-183
About BioCell Collagen®:
BioCell Collagen is a multi-patented, scientifically substantiated ingredient that promotes active joints, youthful looking skin, and healthy connective tissues. Unlike other collagen and hyaluronic acid ingredients on the market, the naturally occurring matrix of hydrolyzed collagen type II peptides and hyaluronic acid found in BioCell Collagen have a very low molecular weight. For more information please go to http://www.biocellcollagen.com