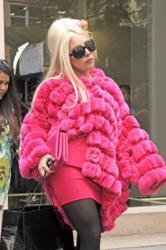 Runways had models sporting one-color outfits from head to toe, or varying intensities of the same hue. This trend has returned for fall, but in one specific color – white.
Houston, TX (PRWEB) August 24, 2012
Rodeo Drive Resale (http://www.shopRDR.com), premier reseller of 100% authentic guaranteed handbags and items including designer pieces such as discount St. John Knits, Gucci handbags and Prada heels, looks at a few fashion trends for the fall.
1) SATCHEL BAGS – Lovers of luxury fashion may never get their fill of designer bags from the likes of Fendi, Louis Vuitton and other popular fashion houses, and this year, fashion experts foresee the rise of the satchel bag, which works beautifully for the stylish scholar on the move or recent grad. "Maybe your inner school kid is a little preppier, in which case a cross-body satchel might be more suitable," Blogger Kristyn Schiavone said on August 15 on the Chicago Tribune Web site "I love these for business formal workplaces and for recent graduates who are in the midst of job interviews, because they're structured enough not to wrinkle papers and folders. In addition, their flat bottoms allow them to stand when you set them down, which just looks nicer in a business situation than a floppy bag that crumples or falls open."
2) KNITS – "The new St. John has a Burberry-meets-Gucci vibe of feminine and flowy pieces," explained ShopRDR.com co-founder Raya Jaffer. She went on to note that the brand now offers a larger variety of fabrics with less emphasis on Santana knit – once their signature look. "Gone are the boutiques filled with structured primary colored knit suits with regal and iconic buttons. St. John now has a modern, minimalist look with a feminine finish." Indeed, iconic wool fashion house St. John Knits has seen its beloved designs undergo bold changes over the past several years, but perhaps it will all be worth it, as knits are expected to once again find themselves on the trendy list this fall.
3) FURS – Animal rights groups may not be too happy about it, but as of late, fur has been making a comeback within the world of popular fashion. While shaggy coats were big in 2011, expect to see more subtle uses of fur toward the end of 2012. Careful not to grab the attention of PETA: International pop star Lady Gaga caught a wave of backlash from the animal rights group after she was photographed wearing a grey fur coat outside a hotel in Europe. Faux fur next time, perhaps?
4) MONOBLOCKING – Color blocking, or the practice of pairing two or three different colors together to make one unique wardrobe, has become a trend from the catwalk to the sidewalk. While it shows few signs of slowing down, mono-blocking is slowly becoming popular. With mono-blocking, the individual sports a single-color outfit from head to toe, or a single color with various shades of the same hue. "Last fall designers took the summer colorblocking trend up a notch with monoblocking," The Washington Post quoted Alison Gary as blogging on August 15. "Runways had models sporting one-color outfits from head to toe, or varying intensities of the same hue. This trend has returned for fall, but in one specific color – white."
Rodeo Drive Resale (shopRDR.com) has built a reputation of providing amazing deals on handbags, clothing and accessories from the top designers of upscale fashion. The company offers a 100% guarantee of authenticity on each item sold, and works daily with a network of clients looking to buy, sell, or for consignment of their luxury goods. ShopRDR.com loves high-end fashion, and believes finding a high quality, classic piece should be an easy, enjoyable -- and most importantly -- hassle-free shopping experience. For the finest in Louis Vuitton, Chanel, Prada, Gucci, St. John Knits, Christian Louboutin, Tiffany & Co. and more, visit RDR online at http://www.shopRDR.com or call 1-888-697-3725.
Also find shopRDR at:
Facebook: facebook.com/shopRDR
Twitter: twitter.com/shopRDR
YouTube: youtube.com/ shopRDR
Pinterest: pinterest.com/shopRDR
Rodeo Drive Resale (shopRDR.com)
1-888-697-3725
service(at)shopRDR(dot)com