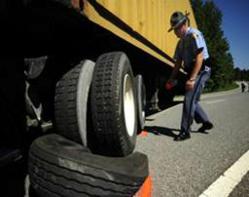 Lyna Manufacturing understands that fleets cannot afford to be penalized for the results of a poor tire maintenance program which is why they created Tire Lyna TCC.
North Vancouver, British Columbia (PRWEB) August 23, 2012
Lyna Manufacturing Incorporated, the only provider of environmentally-friendly casing solutions specifically designed for high speed TBR tires would like to advise carriers to be proactive with their fleet's tire maintenance. Any interstate carrier that has a US DOT number is subject to the CSA 2010 program, regardless of what type of vehicle they operate.
With the new CSA 2010 initiative, every enforcement officer with a scale and an air gauge can become a serious threat if the proper preventative tire safety measures have not be followed. If a carrier has a history of inflation pressure violations and the Targeted Roadside Inspection is the form of early contact that FMCSA chooses as intervention, drivers that thump the tires will become a liability.
Lyna Manufacturing understands that fleets cannot afford to be penalized for the results of a poor tire maintenance program which is why they created Tire Lyna TCC. Tire Lyna is a world class tire casing care (TCC) that protects the entire casing from heat and oxidation damage. It prevents premature tire failures by retaining targeted tire air pressure and stops rim and bead leaks. The biodegradable casing liner and sealant will self-seal punctures up to ½ inch in over the road and off the road tires. Tire Lyna also offers a non-aqueous line of products for TBR and mining tires.
Tires treated with Tire Lyna TCC will eliminate the use of a puncture repair of a rubber stem because Tire Lyna prevents water and moisture from entering the injured casing area. If the road side tire service provider is taking shortcuts by following the "patch-only" method on the inside of the tire, the carrier will be the one to suffer.
Noorez Devraj, President and Founder of Lyna Manufacturing Incorporated further explains that another critical area that must be addressed by the driver is the condition of the tires, specifically the presence of any cuts or chips that expose body plies or belt material in the tread or sidewall.
"It's also important to note that federal law already requires the driver to verify that every tire has sufficient inflation pressure to carry the load of the vehicle and its cargo," added Devraj. "At the end of the day, we just want save vehicles on the road and the only way to do that is for fleet operators to take proactive and preventative steps."
See what the experts say about Tire Lyna—read the independent scientific study here.
About Lyna Manufacturing Incorporated:
Lyna Manufacturing manufacturers the world's best tire safety and tire casing care products, Tire Lyna TCC. Their mission is to produce and market cost-effective, environmentally-friendly tire safety and tire casing care products that help increase the productivity of their customers while decreasing the volume of tires being prematurely discarded into landfills each year. Lyna Manufacturing contributes to the environment by reducing the carbon foot print, by extending casing life so less tires end up in the land fill and by using the best scientifically engineered biodegradable and non-toxic chemicals. Tire Lyna is specifically designed to be used on Commercial tractor/trailers, Buses/Coaches and Industrial/Mining equipment tires. Under-inflation damages sidewalls, and generates heat from road friction that can cause the tread to separate from the tire. Preventing tire pressure loss means preventing sidewall damage and tread separation from under-inflation.
To see what Tire Lyna can do for you, visit http://www.tirelyna.com. Call 877-847-3596 for a test sample. Distributor opportunities available.