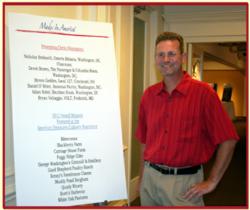 I created Vya with the idea that vermouth could be appreciated in a similar manner to wine: as a full sensory experience, for me, it's like aromatherapy
(PRWEB) August 21, 2012
Life is certainly sweet for one Madera Wine Trail winery known for their sweet dessert wines and their vermouth. Quady Winery earned several accolades recently for their Vya Vermouth and several of their wines.
Vya Vermouth impressed the people at Made in America so much that Quady Winery was nominated for and received an American Treasures Award.
"We're very proud to be recognized nationally as a unique all-American craft producer," said Andrew Quady.
Andrew credited the ideal conditions of Madera and his staff with the creation of a product deemed an American Treasure.
"Our part of California, the San Joaquin Valley, is noted for its especially warm climate and rich soils. Certain grape varieties do especially well here. Our business is built on the development, production, and marketing of new wine styles especially suited to grapes from our region. This sets us apart and creates a unique spirit amongst our employees because our business is like no other."
"We are proud to be designated an American Treasure along with a small selection of craft and organic food producers across the U.S.," he said.
Andrew said the unique history of the spirit, along with the experiential nature he strives for with the creation, captivated the Made in America judges.
"There are a few other American made vermouths on the market now, but ours appeared almost a decade earlier and the Vya has flavors and history like no other. I created Vya with the idea that vermouth could be appreciated in a similar manner to wine: as a full sensory experience, for me, it's like aromatherapy."
According to Made In America, The American Treasures Awards are presented annually in July at the American Treasures Cullinary Experience to individuals and small producers in recognition of a singular and significant contribution to our Nation that both preserves and fosters a unique All-American craft and tradition.
This year's awards were presented to organic growers and craft producers. The winners were carefully selected and vetted through a deliberative process by a National Advisory Committee consisting of individuals with relevant subject matter expertise. A special Congressional Honorary Steering Committee supports the initiative.
Not to be out done, three of Quady's wines received medals at the Lone Star International Wine Competition.
Quady's 2010 Elysium won Best of Show/Grand Star and a Double Gold. The 2011 Red Electra took silver and the Flore de Moscato earned a bronze medal.
"It's almost a double reward," said Quady winemaker Michael Blaylock.
"Everybody here strives to make sure it's the best quality we can achieve in a given year and we feel great about giving it our all. Then when we are recognized elsewhere and we see the quality on the shelf, we feel a sense of pride. All of this is made right here in our hometown, Madera California, and for me, the main thing is I'm still having fun," he said.
Find out more about Vya by visiting our new Vya website: you'll find drink recipes, trade information, accolades, pictures, our new cocktail blog and a Vya locator map. Now you can find the closest restaurants, bars, and retailers who carry Vya.
To learn more about Vya Vermouth, visit http://www.vya.com. For more in Quady's wines, visit http://www.QuadyWinery.com or call 1-800-733-8068.
-END-