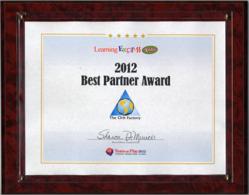 Halifax, Nova Scotia (PRWEB) August 27, 2012
The Orb Factory is proud to have received The Best Partner Award from Learning Express, the largest educational toy retailer in North America.
The award, which is voted on by the storeowners, recognizes The Orb Factory's strong partnership and commitment to Learning Express.
Sharon DiMinico, Learning Express Founder & CEO, announced, "Learning Express created The Best Partner Award to recognize and thank companies for providing outstanding support to the stores and corporate office - - including in-store events, innovative merchandising displays and signage that educates the consumer resulting in increased sales, always in-stock, quick order delivery, excellent communication. And The Orb Factory consistently excels in all these areas."
Bill Bordegon, North American Sales & Marketing Director for The Orb Factory, stated, "We are excited to have won The Best Partner Award from the largest specialty toy retailer. We have developed an excellent partnership with the Learning Express home office team and their knowledgeable storeowners which has resulted in significant increases in their sales of our crafts activities."
About Learning Express
Learning Express is the leading franchisor of specialty toy stores, each one locally owned and operated. Learning Express provides an extraordinary shopping experience with knowledgeable sales staff to offer expert advice on choosing the perfect toy, for every child, for any occasion. To discover more about Learning Express, to find a store near you, or to learn about franchise opportunities, please visit http://www.learningexpress.com or call (800) 436-8697.
About The Orb Factory
The Orb Factory Limited is a leading specialty toy company known for its popular brands, including: PlushCraft™, Curiosity Kits®, Sticky Mosaics®, My First Sticky Mosaics®, StoryCraft®, Stick'n Style®, SparkleUps® and Magnetic Mosaics®.
Visit The Orb Factory website for more details: http://www.orbfactory.com