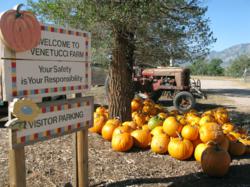 Harvest an eyeful of gorgeous colors with some leaf peeping, indulge in locally-grown produce and celebrate with free autumn-themed festivities.
Colorado Springs, CO (PRWEB) August 22, 2012
The golden hues of the Colorado aspen trees are starting to peek through the summer green and temperatures are growing cooler each day. This means fall is just around the bend along with some seasonal celebrations in the Colorado Springs region. Harvest an eyeful of gorgeous colors with some leaf peeping, indulge in locally-grown produce and celebrate with free autumn-themed festivities.
Cañon Harvest Fest – September 29-30, 2012
Wine, artisans, food and entertainment come together at the 11th annual Harvest Festival at the Winery at Holy Cross Abbey. Spend a beautiful fall day discovering the Abbey's award-winning wines including the limited release of Harvest Fest's Merlot and Riesling. Enjoy local food selections like cheese, crepes, fajitas, roasted chilis and freshly baked breads. Be entertained by various blues and jazz bands. Even the little ones will enjoy the fun zone and face painting. Admission and parking are free. http://www.abbeywinery.com
Rockledge Ranch Harvest Festival – October 6, 2012
In recognition of the bounty of a traditional fall harvest, the Rockledge Ranch Historic Site offers free admission for the annual Harvest Festival. The Chambers' 1880s farm will be filled with activities and fun in the crisp autumn air. Ride a pony or a horse-drawn wagon, listen to old-time music, pick a pumpkin to take home, scramble for candy, kick back on the lawn with a slice of pie, tour the restored 1880s Rock Ledge House and 1907 Estate House or bid for handcrafted folk art at the silent auction. http://www.rockledgeranch.com
Apple Day - October 6, 2012
Penrose, CO has welcomed visitors to Apple Day for over 75 years. This celebration commemorates Penrose's apple crop all day long. Festivities include a parade, an Apple Day Queen, Apple Day Dumplings, an antique car show, dancing and an abundance of apple delicacies including a knock-down-drag-out competition for the best tasting pie. Make sure to grab a complimentary slice. http://penrosechamber.com/AppleDay.aspx
Self-Guided Farm Tours – Through October, 2012
Located on the southwestern edge of Colorado Springs, Venetucci Farm is 190 acres of historic, urban land known as the "Pumpkin Farm." Established by the Venetucci Family in 1936, the once again working farm is committed to growing healthy food. Take free self-guided tours Tuesday through Saturday from 9am-1pm. Browse the onsite farm stand open on Saturdays with a variety of seasonal produce, meat and dairy products grown throughout the year. Visitors may even catch a glimpse of their 1,000+ pound hog or baby goats. http://www.ppcf.org/impact/venetucci-farm
About Colorado Springs, CO
Founded as a resort town in 1871, Colorado Springs is Colorado's second largest city with a population of 414,658. Offering over 300 days of annual sunshine and more than 55 man-made and natural attractions, Colorado Springs and the surrounding region is a popular destination for families, outdoor enthusiasts and couples. The region consists of El Paso, Fremont and Teller Counties, located in southern Colorado along the Front Range of the Colorado Rockies. Find out more or order a free Official Visitor Guide at http://www.VisitCOS.com.