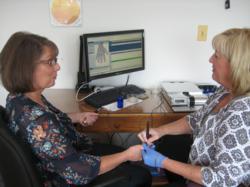 Chronic stress disrupts nearly every system in your body. It can raise blood pressure, suppress the immune system, increase the risk of heart attack and stroke, contribute to infertility, and speed up the aging process.
Orland Park, Illinois (PRWEB) August 23, 2012
Barbara Griffin, NMD, CNC, Certified Gluten Practitioner and President of Vital Health, Inc., summarizes how excessive chronic stress leads to inflammation in the body which then translates to chronic health problems. Stress, also known as General Adaptation Syndrome, is responsible for wreaking havoc on the body and mind. The result of General Adaptation Syndrome is a flood of stress producing hormones in the body which triggers the body to increase inflammatory reactions.
"Chronic stress disrupts nearly every system in your body. It can raise blood pressure, suppress the immune system, increase the risk of heart attack and stroke, contribute to infertility, and speed up the aging process," began Dr. Griffin. "Adrenaline, cortical and cortisone are manufactured and released as a result of stress. These hormones cause adaptive physiological changes to occur that allow the body to cope with everyday stress. However, excessive quantities of these hormones produced by ongoing stress are toxic to the body."
Medical studies now support the harmful connection that stress and inflammation have on the body. A research team led by Carnegie Mellon University's Sheldon Cohen documented that chronic stress is associated with the body losing its ability to regulate the inflammatory response. (http://www.sciencedaily.com) When under stress, cells of the immune system are unable to respond to hormonal control, and consequently, produce levels of inflammation that promote disease.
The best example of this can be found when looking at how stress effects the gastrointestinal system. Dr. Griffin explained, "The gut is housed with thousands of good bacteria like lactobacillus that literally act as agents for your health. They help digest food, create needed enzymes and support your immune system. When stressed, your body's pH becomes more acidic, providing an environment where bad bacteria can flourish, compromising immunity and leading to disease. According to research, chronic stress can kill the populations of good bacteria in your gut."
Dr. Griffin stresses to her clients the importance of probiotics. Supplementing with probiotics encourages the population of the stomach lining and intestines with good bacteria. These good bacteria can correct vitamin and mineral deficiencies, fight fungal infections like candida and boost immunity.
At Vital Health, Inc,. Dr. Griffin has the capability to identify where the body is showing signs of inflammation. Through the EAV assessment, Dr. Griffin measures the body's energetic system which will show which areas of the body are beginning to display signs of stress and inflammation. The EAV assessment is a non-invasive and painless test that can measure inflammation in all vital organs and body systems.
Dr. Griffin recommends several initiatives that can help control the harmful effects of stress and prevent the body's inflammatory response:
1. Eliminate food allergens such as wheat and gluten is essential
2. Support the digestive system with enzyme therapy, probiotics, vitamins and supplements. Digestive enzymes will help to breakdown food and ensure proper absorption. Probiotics help to maintain an ever important balance between good and bad bacteria.
3. Vitamins and supplements, such as B-12, vitamin D, Vitamin E, Vitamin C, and Vitamin B5, as well as minerals like zinc and magnesium are frequently depleted during times of stress.
4. Keep your diet low on sugar and carbohydrates. A high carbohydrate diet unleashes a relentless and rotating barrage of sugar, then insulin, into the blood stream. This keeps the body in a state of alarm which can cause hormonal in balance, gut infections, and create nutritional deficiencies.
5. Hormones such as DHEA improve the ability of the body to handle stress. Melatonin counteracts the toxic effects of excessive stress on the immune system. Pregnenolone improves the body's ability to handle stress.
6. Relaxation techniques such as regular exercise, biofeedback or yoga are helpful.
These suggestions should be reviewed and approved by your medical doctor before implementing. Dr. Griffin does not recommend discontinuing your current medications or medical treatments.
About Vital Health, Inc.:
At Vital Health, Inc. Dr. Griffin integrates a whole body approach with the intention of facilitating wellbeing and optimal amongst her clients. Dr. Griffin's specialties include: traditional naturopathy, nutrition, EAV Meridian Stress Assessment, Food Sensitivity Screening, Environmental Screenings, Iridology, SKASYS, Live Blood Cell Analysis as well as established integrative therapies such as Neuroemotional Therapy, Neuromodulation Technique, Cold Laser Therapy, Emotional Stress Integration and Neuro-link Technique. In addition, Jade Derma Ray Lymphatic Massage and BioCleanse Foot Detox are also available at Vital Health, Inc. For more information please visit Vital Health's website at http://www.vitalhealth.org.