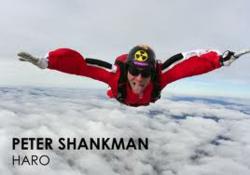 Las Vegas, Nevada (PRWEB) August 22, 2012
Peter Shankman is joining the crowd in Las Vegas. Peter will be the opening presenter at the Crowdfunding Bootcamp October 9, 2012 at the Ravella in Las Vegas, NV.
Peter Shankman is an entrepreneur, author, speaker, worldwide connector and small business evangelist. Peter is best known for founding Help A Reporter Out, (HARO) which in under a year became the de-facto standard for journalists looking for sources on deadline, offering them sources around the world looking to be quoted in the media. HARO is currently the largest free source repository in the world.
He is also recognized worldwide for initiating new ways of thinking about social media, PR, marketing, advertising, creativity and customer service. To launch an effective Crowdfunding campaign, you must start with a clear message that can be used to attract potential investors. Who better to teach this vital principal than Peter Shankman, the master of "Networking through Social Media."
Peter's PR and Social Media clients have included American Express, Sprint, The US Department of Defense, Royal Bank of Canada, Snapple Beverage Group, Saudi Aramco, Foley Hoag, LLP, NASA, Haworth, Walt Disney World, Abercrombie and Kent, The Ad Council, Discovery Networks, New Frontier Media, Napster, Juno, Dream Catcher Destinations Club, Harrah's Hotels, and many, many others.
The Crowdfunding Bootcamp, is offering attendees direct access to the speakers, attorneys, CPA's, marketing specialists and business strategists, including Candace Klein from SoMolend, and Bad Girl Ventures, Maurice Lopes from Early Shares, Douglas Ellenoff from Ellenoff Grossman & Schole LLP, Preston Clark from 1-800-Accountant, Vincent Molinari from Gate Technologies,Sara Hanks from Crowdcheck ,Sherwood Neiss , and Jason Best Co-Chairs, Crowdfunding Professional Association and the Startup Exemption and so many more industry leaders.
"The unique aspect of this bootcamp is that all of the speakers and experts have signed on to work one-on-one with the attendees to make sure when they leave this event they will have the tools and knowledge they need to launch a successful crowdfunding campaign," said Ruth Hedges, Principal of Crowdfundingroadmap, creator and producer of the event and founding board member of CFPA and CFIRA
Hosted by Crowdfundingroadmap and Laughlin Associates this one of a kind event is going to prepare entrepreneurs with the key elements they need to be ready to crowdfund.
Crowdfunding is being looked upon as the saving grace of small business in America. It has grown into a billion dollar business and with the passage of the Jobs Act. More and more entrepreneurs and investors are going to be participating in this remarkable opportunity.
"To get businesses ready to take advantage of this remarkable opportunity, they must have certain fundamental business systems in place to be prepared to act when the final regulations on crowdfunding are determined," said Aaron Young, CEO of Laughlin Associates. "The Crowdfunding Bootcamp is designed to put those foundational steps in place."
To register for tickets, please visit Crowdfunding Bootcamp. Only ticket holders will be permitted into the event. Press Passes will be provided to qualified members of the media at no charge. To receive press passes, please contact mcole(at)laughlinusa(dot)com.
Laughlin Associates is a leader in the Corporation and LLC formation and management business. We have helped over 80,000 business owners achieve their dream of business ownership. Our simple, straight-forward and comprehensive system will allow you to establish the solid foundation that you need for explosive growth in your business. We help people start, build and grow their companies and have been the trusted incorporation services provider since 1972.