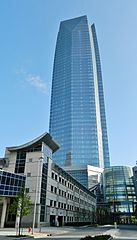 Behnam Rugs chosen to alter Tufenkian rug for Devon Tower's second floor lobby.
Dallas, Texas (PRWEB) August 23, 2012
Though Oklahoma City's tallest skyscraper, the 850-foot Devon Tower, will be completed this September, it still needed a little something. That something ended up being a Tufenkian rug that would carpet a room on the tower's second floor. The rug, which is hand-woven using traditional Tibetan and Armenian techniques, needed to fit an area that included a large column and was split by a glass wall. Because the carpet is handmade, customizing it to fit the space required special techniques and skilled technicians. Fortunately, the experts at Behnam Rugs, a Dallas rug cleaning and repair company, were up to the task.
The Scott Rice Company, the furniture provider for the Devon Tower, chose Behnam Rugs because they were recommended as specialists in the care, cutting, rebinding, cleaning, and repair of handmade artisan rugs. "Behnam Rugs did a great job," says Jim Calhoun, VP of Operations at Scott Rice, "They explained the process thoroughly and even made the alterations in such a way that the rug can be put back together."
"We were excited to be chosen by Scott Rice Company to modify and rebind this beautiful rug," says Afton Claiborne, a representative for Behnam Rugs. "The project was challenging, because it required several modifications; we needed to cut a large hole in the center of the rug to accommodate a central column, to split the rug in half to go on either side of a glass wall, and create openings to provide access to electrical outlets under a high-tech conference table."
About the Devon Tower
The Devon Tower was commissioned by Devon Energy Company and designed by Pickard Chilton Architects Inc. At 850 feet and 50 floors, the tower is the tallest skyscraper in the state of Oklahoma.
About Tufenkian Artisan Carpets
Tufenkian Artisan Carpets has set the standard in luxury, hand-made carpets for over 25 years. Made with the finest natural materials and handcraftsmanship, Tufenkian carpets are destined to last a lifetime and become more beautiful with age. Our exquisite designs are as timeless as our quality, creating an heirloom that can pass from one generation to the next. Tufenkian Artisan Carpets was the proud recipient of the prestigious Frabel Design Award at AmericasMart in Atlanta, January 2012. For more information visit http://www.tufenkiancarpets.com.
About Scott Rice Company
Scott Rice is a full service furniture provider; working with clients before, during, and after the product is installed. In addition to providing a variety of furniture and flooring solutions, Scott Rice services include space planning, project management, move management, and many more. For more information about Scott Rice visit http://www.scottriceok.com.
About Behnam Rugs
Founded by Tavakolian brothers in 1978, Behnam Rugs provides expert cleaning, repair and restoration of fine rugs. They also offer an array of rugs from Iran, India, China Pakistan and Romania for sale, both retail and wholesale. For more information about Behnam Rugs visit http://www.behnamrugs.com.