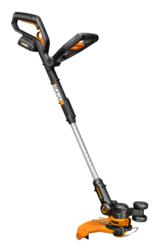 The WORX GT 2.0 is a power-packed grass trimmer, precision edger and even a mini-mower--all in one lightweight, maneuverable, cordless yard tool.
Charlotte, N.C. (PRWEB) August 23, 2012
It's time to celebrate the string trimmer's fortieth birthday. In the early 1970's, George Ballas of Houston, Texas created a string trimmer after watching the revolving action of cleaning brushes in an automatic car wash. He applied the same principle by fastening fishing line to a popcorn can and bolting the can to an edger. He dubbed the string trimmer creation "Weed Eater" due to its ability to cut grass and weeds around trees. Since then and after years of transformation, this handy powered yard tool can be found in garages all over America.
String trimmers assist homeowner's in the quest for the perfectly manicured lawn. There's lots of choices from gas and electric to battery-powered and propane; straight and curved drive shafts, bump feed, auto feed and fixed line. Gas trimmers make sense for homeowners with lots of acreage, but for the average suburban and urban lot, a cordless trimmer is a viable option and one that eliminates the need for gas and oil.
One green company's entire yard care product line is electric and battery powered. WORX® just released a new 20 volt lithium-ion grass trimmer that utilizes a 2.0 amp hour battery. The WORX GT 2.0™ is a powerful grass trimmer, a precision edger, and even a mini-mower – all in one lightweight, maneuverable, cordless machine. It features a telescoping shaft that is adjustable to the user's height.
The new WORX 20-volt trimmer provides almost twice the battery capacity than its predecessor, 2 in. more cutting capacity (12 in. swath), 2 in. longer adjustable shaft, plus two wheel positions for edging. Unlike ordinary trimmers, the head of the GT trimmer tilts 90°. This feature allows the user to trim underneath decks, shrubs and other obstructed, hard to reach areas. The tool's automatic line feed system ensures there's plenty of line to get the job done quickly and efficiently.
The trimmer converts into a wheeled, walk-behind edger with a simple twist of the cutting head. Instead of free-form edging, the trimmer incorporates a pair of inline skate wheels to drive a keen line along sidewalks, drives and patios. When the wheels are in the mini-mower position, the trimmer mows at a 3 in. height between bushes, beneath picnic tables and other hard-to-reach areas. When not in use, the wheels are removable.
This trimmer also has a spacer guard. When fully extended, the spacer guard assists as a caution guide when trimming near sensitive areas, such as trees, plants, flower beds and yard ornaments.
Ergonomics plays an important role in string trimmers. Choose a trimmer that's nicely balanced and lightweight. The WORX trimmer is less than 6 lbs. with battery. It also features an adjustable rubber-coated handle for maximum control.
The grass trimmer operates at a no-load speed of 8500 rpm, driving the durable, braided, spiral line (0.065 in, diameter) through grass, weeds and light brush. There's no fumbling with line changes. WORX features a quick-change, snap-in spool system and includes three free spools. The company's spools for life program begins once the GT trimmer is registered. The user receives free spools for the life of the tool and only pays for postage.
The GT Trimmer/Edger has earned the right to bear the Energy Star label. Products with the Energy Star label are considered eco-friendly, help prevent global warming and promote cleaner air.
The 20V Max Lithium™ WORX GT 2.0 Grass Trimmer/Edger/Mini-Mower, WG160, $119.85, includes one 20V Max Lithium battery pack, an Energy Star rated one-hour charger, wall mount accessory and three spools of line. It's available at http://www.worxyardtools.com. Facebook fans can visit WORX at http://www.facebook.com/worxyardtools.
# # #