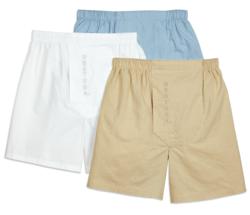 Read an article on your product in our local newspaper, The Fresno Bee, and just kept agreeing with all of your points regarding boxers so I had to order some and try them! You certainly know what you're talking about!
( Albert W. Atlanta Ga.)
West Columbia, South Carolina (PRWEB) August 22, 2012
The problem with walking around the house in boxer shorts is the dreaded and uncomfortable situation of "fall out". For those of us that like to walk around the house at night in boxer shorts, a brand new patented product is now available. Ubatuba Boxer Shorts with the off-center fly rectifies the age old problem of "fall out". Invented by a high school biology teacher in South Carolina, Ubatuba Boxer Shorts that fixes this problem plus a bunch more.
Here are five main benefits:

Off-Center Fly- keeps your "special purpose" in your shorts so that you don't embarrass your children.
Triple Panel Front- no more after the restroom wet spots on your Khaki's due to the thinness of regular boxer shorts.
Three Piece back- this greatly reduces those doggone wedgies.
A Small Inside pocket: this is perfect for tissues, condoms, mp3 player, etc..
Direction on the label with the proper way to wear Ubatuba's
A more in depth description:
The problem with today's typical boxer shorts is " fall-out". It is a poor design to have the fly located in the center. Of course "fall-out" is going to happen with the fly in the center. Not only is fall-out uncomfortable, but also embarrassing for the wearer, and those in the room with him. But with today's new Ubatuba Boxer Shorts and it's off-center fly, none of this will happen. Now men who like to walk around the house in their boxer shorts can do so in comfort and with the knowledge that "fall out" will not happen while wearing Ubatuba Boxer Shorts.
Another common problem with old style boxer shorts is the most embarrassing situation of a wet spot on the trousers after a trip to the restroom. After a man goes to the restroom, there is the shake, and then tosses it back into the pants. The problem with this is, after a second or two, a front muscle in the urethra relaxes and allows for about 12 drops to come out unknowingly. With old style boxer short's thin one panel front, there is nothing to prevent a spot from forming on the wearer's trousers.
Many times men have been seen in the restroom drying their hands on their pants in order to camouflage the wet spot, as if to pretend that there were no more paper towels in the restroom. All of this may be alleviated by wearing Ubatuba brand boxer shorts. Ubatuba incorporates a three layer front panel. Now with Ubatuba, there are no more of these problems or worries.
As you can see, Ubatuba's off-center fly is perfect for the man who likes to walk around the house in his boxer shorts.
Currently Ubatuba Boxer Shorts are only available at ubatubaboxershorts.com