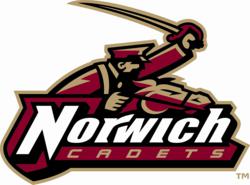 It's our goal to get there again.
Northfield, VT (PRWEB) August 21, 2012
Last year marked a historic year for the Norwich University football program.
The Cadets went unbeaten in Eastern Collegiate Football Conference (ECFC) play to clinch their second league title in the last three seasons, as well as qualified for the NCAA playoffs for the first time in the program's 119-year history.
Now that they've had a taste of the NCAA Tournament, the goal from the start of the 2012 preseason camp has been to get back there.
"I think that's huge," said second-year head coach and reigning ECFC Coach of the Year Mark Murnyack on last year's NCAA appearance. "Moving forward, it gives us an opportunity to recruit even better players to help the program take the next step. The kids want to do that too. They've been there and seen what it's like on a national level now. We want to get back there and I think if we put the work in, that's where we deserve to be."
Murynack's inaugural year at the helm of the NU football program didn't get off to the best start as the Cadets dropped their first three non-league games to open the season before reeling off seven straight wins in league play.
"We lost our first game to Western New England, but there was a point in that game when we were down 14-0 and then scored 17 unanswered points to go up 17-14," Murnyack said. "Ultimately we lost the game but I really felt like there was something we could work with and something that team had. I know the next two weeks it didn't look like, but I really felt like we got better each week."
The Cadets' dream 2011 season came to an end though with a first round defeat at Delaware Valley.
"We've still got a lot of work to do and last year showed us that we weren't quite ready on that level yet," Murnyack said. "It's our goal to get there again. If you can be consistent within your program, you have the opportunity to do something pretty special once you get there."
For Norwich to repeat as ECFC champs and get back to the NCAA playoffs, it will start with maintaining the program's simple philosophy.
"Our philosophy is to run the football and stop the run, that's what we do," Murnyack said. "There is nothing more demoralizing to an opponent than setting up your defense all week to stop the run, and then we're still successfully running the ball."
That philosophy has worked well lately as the Cadets have ranked sixth in the nation in rushing offense in back to back seasons. Last year, NU averaged 303.7 yards per game on the ground.
Norwich returns every key component from last year's backfield with the lone exception being departed senior Andrew Fulford (937 yards and 10 TDs).
The returners are led by crafty senior quarterback Kris Sabourin (Georgia, Vt.) who has compiled an impressive 23-7 record in games he's started under center for the Maroon and Gold. He enters 2012 just 390 yards short of setting the new Norwich all-time career rushing record, which is currently held by Darnell Jackson '08 with 3,045 yards.
Sabourin ran for 1,102 yards last season and nine touchdowns, while also throwing for 543 yards and four touchdowns through the air.
"Anytime you have a guy, particularly in the offense that we run, that handles the football so well and makes good decisions every single snap while not turning the ball over is pretty comforting," Murnyack said. "He doesn't say a whole lot, but he just doesn't like to lose. He competes all the time and that's what you want in a kid in that position."
The Cadets also return senior Danny Triplett (Haverhill, Mass.) along with sophomores Derrick Pitts (Schenectady, N.Y.) and Al Georgio (West Greenwich, R.I.) who are all expected to factor heavily in the carries.
"Gone are over almost 200 carries and someone is going to have to take those this year," Murnyack said. "We're going to miss Andrew's experience and his toughness, but I'm really excited to see what these kids can do with more touches. Personally, I'm expecting big things from Triplett. I think he felt like last year was a disappointment and he's worked real hard to prove to himself and other people what he is capable of doing."
Triplett ran for 98 yards, highlighted by a 42-yard scamper and a touchdown in last year's season opener against Western New England, but was hampered by injuries the rest of the way and finished the year with 420 yards and three touchdowns.
Pitts provided an instant impact as a freshman last season running for 691 yards and three touchdowns. He also led the team in receptions (21) and receiving yards (195), to go along with one receiving touchdown.
"Derrick is versatile and tough," Murnyack said. "He is one of our leaders even though he is a sophomore. He can do so many things for you running inside and outside the tackles as well as catching the football."
Georgio will have the opportunity to make more of impact this year after carrying the ball just 21 times last season for 99 yards and a score.
"Georgio is the one with what we call the wiggle," Murnyack said. "He can stop and start, jump cut, he can somehow manage to cut and move backwards to make people miss."
Between the four of them, Murnyack and offensive coordinator John Rhoades have a deep arsenal of talent and a plethora of options at their disposal on game day.
"There are some packages where we can get them all in there at the same time but I think they'll complement each other well," Murnyack said. "None of this would be possible though without the great line play we get every week. They've been coached up well by Carl Mintken and they take a lot of pride in that part of the game."
The offensive line will be led by two returning All-ECFC Second Team members in senior captain Sean Southworth (Exeter, N.H.) and junior Matt Gallagher (Morris Plains, N.J.).
On the defensive side of the ball, Norwich returns just four starters from last year's squad that surrendered 23.7 points per game, which also included three All-ECFC First Teamers in Sean Stone, Joe Gumbrewicz and Brandon Fowler. The biggest question mark comes in the secondary where the Cadets only return junior Dan Gogan (Keansbury, N.J.).
"I'm happy with what I've seen early on," Murnyack said. "Nate Fortezzo (Branford, Conn.), Josh Ruby (Buxton, Maine) and Dane Pallatto (Westbrook, Conn.) have all done a great job through camp so far. The opportunity is there and now we'll see who seizes it. Once the ball starts a little bit more and we get some scrimmages in more we'll have a better idea of where we're at."
On the defensive line, senior captain Matt Simonelli (Scituate, R.I) returns after earning All-ECFC Second Team honors last season. However, this season he'll be switching positions.
"We moved Matt out to end and Oliver Aurelia (Stratford, Conn.) has been playing some nose tackle for us," Murnyack said. "Ty Baulier (Merrimack, N.H.) has been playing some nose and we've got two big freshmen nose guards that we like and are going hard learning what it takes to be successful on the defensive line at the collegiate level."
Perhaps the strength of the Cadets' defense this season could stem from linebacker where they have the most experience and depth returning.
"I'm really excited about our linebacker corps this season," Murnyack said. "We've got some depth with a bunch of guys battling there for time right now."
Returning leading tackler junior Jimmy Labell (Stanhope, N.J.) headlines the unit along with Stephen Gilmore (Norton, Mass.), Lou Delgado (Accord, N.Y.), Brendan Carroll (Wellington, Fla.), John Taranto (New Britain, Conn.), Addison Nye (Hooksett, N.H.) and Joshua Menge (Hagaman, N.Y.).
The kicking unit will have a whole new cast this season without ECFC Special Teams Player of the Year Long Ding. Ding was an integral part of the Cadets' success going 13-for-16 on field goal attempts, including a 51-yard bomb in a 16-9 win over SUNY Maritime that clinched the ECFC title. He also successfully converted 34 of 35 point after attempts to lead Norwich in scoring with 73 points.
"Brian Segit and Ding have been the guys the past couple years that everybody has known who they are," Murnyack said. "No one has talked about Andrew Banuskevich (Peterborough, N.H.) and Patrick Wilson (West Rupert, Vt.). Those guys aren't new to the program, but they just haven't had the chance to play much yet."
One streak to keep an eye on this season will be Norwich's ECFC home unbeaten streak. Since the conference's inception in 2009, NU has still yet to lose a home conference game which spans 12 straight games.
However, according to Murnyack the ECFC as a whole has continued to make improvement strides and he has preached to the players since day one of camp that every team will be itching to get a chance to knock off the defending league champions.
"Every league game is important," Murnyack said. "I don't think the gap from top to bottom is as far as people think. Each week you have to be ready to go and you cannot look past an opponent. I think our kids have been able to do that. We've stayed focused and prepared each week knowing we're going to see everyone's best game."
Norwich will open up the 2012 campaign by hosting Western New England University on Saturday, Sept. 1 at 1:30 at Sabine Field. Last year, WNE scored a touchdown with 1:43 left to go in the fourth quarter to win a thriller 28-24 in Springfield.
"Western New England is a big game," Murnyack said. "Regionally it's about as big as it gets. These are the two New England teams that went to the NCAA playoffs last year. Our kids are excited about it. They aren't happy with the way we played down there last year and we're looking forward to getting them at home on Sabine this year to open the season."
Norwich University is a diversified academic institution that educates traditional-age students and adults in a Corps of Cadets and as civilians. Norwich offers a broad selection of traditional and distance-learning programs culminating in Baccalaureate and Graduate Degrees. Founded in 1819 by Captain Alden Partridge of the U.S. Army, Norwich University is the oldest private military college in the United States of America and the birthplace of our nation's Reserve Officers' Training Corps (ROTC). http://www.norwich.edu